Ezekiel Elliot's fantasy value depends on whether his suspension is reduced
History shows that appeals have shortened suspensions in the NFL despite domestic violence.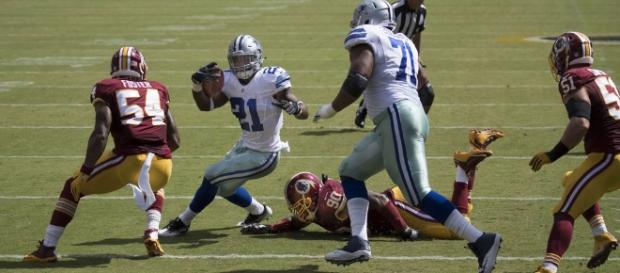 Fantasy owners who wanted an impact running back took a hit on Friday when Dallas Cowboys running back Ezekiel Elliott was suspended six games for violating the league's conduct policy -- the NFL announced. The suspension stems from allegations set forth by a former ex-girlfriend who accused Elliott of #Domestic Violence. The Cowboys will look to Darren McFadden, Alfred Morris, and Ronnie Hillman to take over as the team's ball carriers.
The decision to suspend
Despite charges never being filed, Elliott was still suspended for six games, which is the longest suspension ever given to a player for domestic violence. The league has had to deal with a crisis of domestic violence cases in the past.
Ray Rice was caught on tape hitting his current wife (and then-fiance). The league was scrutinized for suspending him for just two games. Rice hasn't played in the NFL since. Then, there was Greg Hardy. After an investigation, Hardy went from being suspended for 10 games to just four, which also brought harsh criticism.
The NFL can suspend a player without legal charges being brought. The NFL decided to suspend Elliott because of "conflicting and inconsistent information." Elliott has three business days to appeal the decision, which is likely going to happen.
Fantasy value
Elliott was no doubt a first round selection in most drafts this year. Elliott rushed for 1,632 yards last season with 15 rushing touchdowns. Behind an excellent offensive line, he was poised to have another big year.
Now, most fantasy owners are wondering when to draft him.
Here's what history has shown us. Hardy's 10-game suspension was reduced to six games and Hardy had charges brought against him. Elliott has a six game suspension, and it could be brought down to two or three. If the suspension is two or three games, then we use the LeVeon Bell #Case. Bell was suspended for three games last season for violating the NFL's drug policy. Bell was caught with marijuana.
Bell was a third or fourth round draft pick last season, and helped carry the load for fantasy owners when he returned. Owners do not want to overdraft Elliott in the first or second round because you need an impact player to carry your team in those first few weeks. If the suspension stands, then Elliott should not be drafted until the sixth or seventh round. You cannot afford to waste one of your top three picks on a player that will miss half of your regular season. If the hole is too big to climb out of, you risk missing the playoffs. #Ezekiel Elliot