Ekaterina Makarova got past Kerber, advances in Cincinnati
The Russian scored a second win in 2017 against the former world No. 1 Angelique Kerber.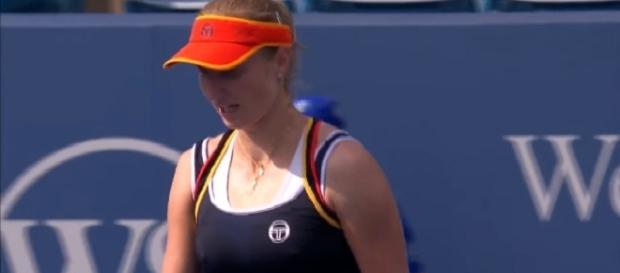 The WTA Premier 5 event in Cincinnati went through another interesting day. At the end of it, some of the high-profile names packed up their bags as they were defeated. Venus Williams lost to Ashleigh Barty in three sets, while Angelique Kerber, last year's runner-up saw her run reaching an end as a result of a heart-stopping encounter against #Ekaterina Makarova from Russia. The former world No. 1 seems unable to get past the dark period she has had recently while Makarova booked a spot in the round of 16. For the 29-year-old Russian is the second success over Kerber in 2017 after she got past the German in the round of 128 at the French Open earlier this year.
Currently ranked 39th in the world, Makarova delivered some outstanding tennis against 2016 finalist.
An epic thriller held under a scorching heat
Entering the encounter, Kerber hoped that she could use this match to build up some momentum. But, her opponent had a different scenario to play after. The opening set saw #The Russian pressing harder on Kerber's serve and getting her nose in front from the start. Breaking on Kerber's serve in the third game of the act was enough to give her momentum as she raced to the end converting the second set point she had. The next set was a whole other business with Kerber dominating the court. It all came to an end pretty quick as the German player sealed the set by 6-1 in about half an hour. Entering the decisive act, it seemed that Kerber had the upper hand.
Despite losing her serve early, Makarova bounced back to win five games in a row. While serving for the match, the Russian failed to convert two match points allowing Kerber to remain alive. It all went down to a tie-break where drama reached some dizzying heights. Eventually, Makarova won the tie-break by 13-11 not before wasting other five match points. Moreover, she had to save a match point too.
Makarova celebrates while Kerber seems just a shadow of the former world No. 1
It was a stunning victory for the Russian, but, on the other side, Angelique Kerber will have a lot of questions to answer to while preparing for 2017 US Open Tennis Championships. The defending champion at Flushing Meadows might see her ranking plunging way outside the top 10 in the next few weeks. All those 2000 ranking points she collected by winning 2016 US Open are quite a burden now. Currently ranked third in the world, she is now 25-17 in win/ loss ratio. Moreover, by the end of the week, she may even go out of the top 5. Muguruza, Svitolina, and Wozniacki are closing the gap from behind. There is no reason for comparison between the current season and the previous one. Back in 2016, she was at her peak putting an end to Serena Williams' dominance. #world no 1