D'Angelo Russell excited to get a new opportunity with the Nets
D'Angelo Russell was traded from the Los Angeles Lakers to the Brooklyn Nets earlier this offseason.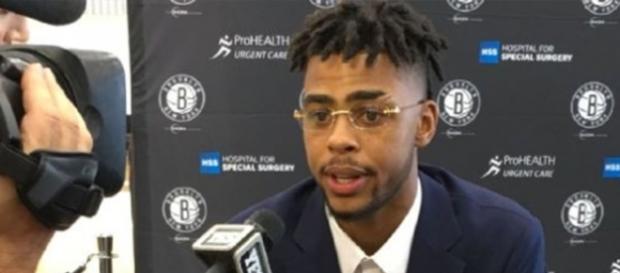 It has been a while since the #Los Angeles Lakers were relevant in the NBA. One of the most popular and successful franchises in all of sports has had a tough time over the past few years. The last time the Lakers played a playoff game was during the 2012-13 season and their last NBA title came in 2010. Meanwhile, Kobe Bryant retired in 2016, and the Los Angeles Lakers seem to be in a new era.
In February, the Lakers named Magic Johnson as their new president of basketball operations. In March, Rob Pelinka was named as the general manager of the Lakers and it didn't take long for Johnson and Pelinka to start making major moves and changes.
Russell traded to the Nets
Soon after the 2016-17 season ended, Pelinka and Johnson decided it was time for the Lakers to part ways with D'Angelo Russell. The 6-foot-5 point guard from Louisville was sent to the #Brooklyn Nets in exchange for Brook Lopez. The news about Russell's trade came as a bit of a shock to everybody around the NBA, as it seemed the Lakers were happy with the way Russell performed last season. He averaged 15.6 points, 3.5 rebounds and 4.8 assists per game on 40 percent shooting in his second season with the Lakers.
He was the second overall pick in the 2015 NBA Draft, and many believe that the 21-year-old Russell has All-Star potential. After the Lakers announced that they are trading Russell to the Nets in exchange for Brook Lopez, the news went viral quickly and it was a move that needed to be made.
The Lakers drafted Lonzo Ball in this year's NBA Draft and he is projected to be the face of the franchise for many years to come. Just a couple of days ago Russell appeared as a guest on the Joe and Evan show on WFAN, and he talked about his trade from the Lakers and several other things as well.
Excited for the opportunity
D'Angelo said that he doesn't think he was treated unfairly by the Lakers as he believes it's all business. "It's business, man. That's how I got to look at it. A lot of things happen in this league and you don't agree with it or however you may feel about it and at the end of the day realize it's business." When asked about what was his first reaction to the trade, Russell said: "I was excited. I was excited to get a new opportunity to start over, but it definitely caught me off guard. You see, guys get traded you never think it would have to be you until it does. New step for me."
He added that he believes the Nets have an underrated group of guys that could surprise the NBA world next season. The Nets finished at the bottom of the Eastern Conference last season with a 21-61 record. Surely with the addition of D'Angelo Russell, their record should improve next season. At the end of his interview, D'Angelo added that Los Angeles "was a heck of an experience" for him and that he can't complain. Russell will likely be the focal point for the Brooklyn Nets next season, and we should expect his individual stats to be even better than last season. #Dangelo Russell