Dallas Cowboys' 2017 NFL preseason schedule starts next weekend
The last non-football weekend for a long time just went by. The NFL preseason will start shortly.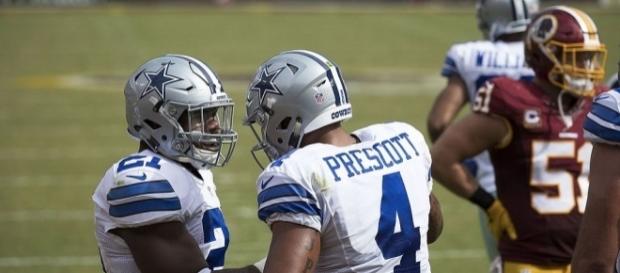 The most recent news with the Dallas Cowboys is that owner Jerry Jones was inducted into the Pro Football Hall of Fame over the weekend. Jones mentioned former Dallas quarterback, Tony Romo, during his speech.
"No quarterback," Jones said, according to NFL.com, "in Cowboys history was asked to carry as much of the load for his team as Tony. He beat all of the odds and delivered some of the most remarkable plays and unforgettable performances in our team history." Romo, who is now retired, suffered an injury during the NFL's preseason last year, an injury that lead to Dak Prescott taking over quarterbacking responsibilities.
It's Prescott and runningback Ezekiel Elliot that Dallas fans will be looking to for big plays now as the team prepares for the upcoming preseason.
Cowboys in Los Angeles next weekend
The preseason games won't count toward the Cowboy's overall record, but they are a big part of the season all the same. Prescott recently interviewed with ESPN where he made statements that suggested that he wanted to see the Cowboys go 14-2 or better in the upcoming campaign. The Cowboys will play four preseason games all in the month of August as they make their preparations for the 2017-18 season. Those games are listed below:
August 12th: the Cowboys will travel to play the

#

Los Angeles Rams (9 pm ET)
August 19th: the Cowboys will host the Indianapolis Colts (7 pm ET)
August 26th: the Cowboys will host the Oakland Raiders (8 pm ET)
August 31st: the Cowboys will travel to play the Houston Texans (8 pm ET)
Cowboys' regular season opens at home
The Cowboys last preseason game will be played on a Thursday, August 31st.
That's not a bad spot to be in as that will give them a full ten days off of the playing field to prepare for their regular-season opener. That game will be played against the New York Giants, a team that was dangerous last season. The Cowboys will host that contest on Sunday, September 10 at 8:30 pm ET.
There is plenty of optimism surrounding the Dallas Cowboys as the start of the preseason nears. This is a team that is considered to be in contention to make it to the Super Bowl. The Giants are also a team considered to be in contention in the upcoming season, and that could make the home opener for Dallas an important game. Other games that the Cowboys will play in September are road games as the team will travel to Denver (September 17) and then Arizona (September 25). If the Cowboys are to go 14-2 or better this season, then a 3-0 record through September will have to be the goal. #Dallas Cowboy #Nfl Preseason