Cincinnati: Nick Kyrgios to face David Ferrer for a place in the men's final
The Western & Southern Open with not a single top 10 presence in the semis.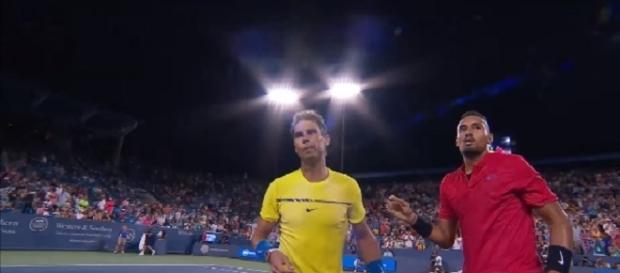 The younger generation of ATP tennis star is alive and well in Cincinnati. While Dimitrov is building another momentum re-entering the top 10, another name is making headlines. After being forced to play two matches in a single day due to a rain-delay, the 22-year-old Aussie Nick Kyrgios (23 ATP)has booked himself a spot in the last four stages where #David Ferrer (31 ATP) will be his opponent.
Kyrgios pulled out some of his finest tennis getting past Ivo Karlovic after being a set down only to go even further crushing Rafael Nadal in straight sets at the end of a flawless tennis performance. It's the second Masters 1000 semifinal of the season for him, and it may put him on the favorites' list for the upcoming US Open Tennis Championships.
Moreover, with both Nadal and Thiem out of the contest, the semis in Cincinnati won't have any trace of top 10 presence.
Kyrgios dismantled Nadal in just 80 minutes of play
Before the match, Kyrgios was trailing behind Nadal by 1-2 in head to head stats having the Spaniard as the winner of their most recent clash (earlier this year on the clay court in Madrid). Already with two wins over Djokovic in 2017, Kyrgios seems to have fear or inferiority complex when it comes to facing true titans of men's tennis. He did a perfect against Nadal. The opening set saw the Spaniard losing twice on his serve. It was all the leverage Kyrgios needed to put away the opening set in a comfortable way by 6-2 in less than half an hour. As expected, the second set was different with the soon to be world No. 1 Nadal (next Monday) trying to race from behind.
At 5-4, Kyrgios failed to close out the match allowing Nadal to hang on a little bit longer. But there was no space or time for a resurrection as Kyrgios was decided to end the match in two sets. Breaking Nadal in the next game dissolved any trace of doubt as Kyrgios sealed a huge win by 7-5.
David Ferrer comes next
The 35-year-old David Ferrer will take on #Nick Kyrgios for a place in what may be an affordable final in Cincinnati. From the other half of the main draw, JOhn Isner (2013 runner-up) or Grigor Dimitrov will emerge. In head to head stars, Ferrer leads Kyrgios by 1-0 but their only meeting occurred four years ago in the round of 128 at 2013 US Open. Thus, it may be an irrelevant information. For Kyrgios, it seems that the hip injury scare is fading away allowing him to do his magic on the tennis field. The timing couldn't be better as he has a solid shot to step on Zverev's shoes and win a Masters 1000 event. #Western Southern Open