Boston Red Sox outfielder Mookie Betts misses deep fly
The error allowed a run to score, helping the New York Yankees tie the game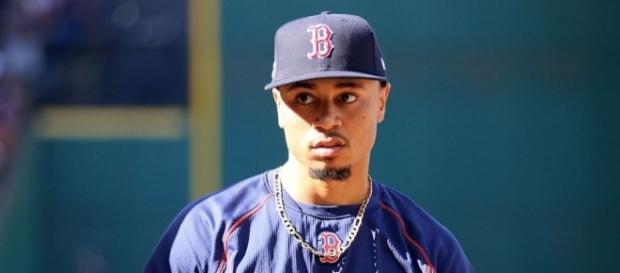 The #Boston Red Sox could've used a big grab to get out of a tricky situation on Sunday night. For once, however, #Mookie Betts couldn't get it done. He went all the way up against the wall as it looked like Austin Romine's drive was going to clear the fence for a two-run home run. But it came up just short, giving Betts the perfect opportunity to get the grab. And yet, for arguably the only time in recent memory, he failed to come through.
Betts with a critical mess
After Chase Headley singled after just the second hit off of Chris Sale in the bottom of the fifth inning (and a subsequent out), Austin Romine came to the plate.
He didn't seem like the most likely candidate to put a scare into Sale, but it's always the ones you least expect. Sure enough, the catcher put a deep drive into the ball, sending it Betts' way in right center field, then seemingly over his head, until the ballpark decided to hold it in; the Red Sox outfielder couldn't do his part, though.
Mookie Betts walked back into the dugout talking to himself, shaking his head after not making that play.

— Buster Olney (@Buster_ESPN) August 14, 2017
Much to Betts' dismay, the ball went caroming off the wall after flying just past his glove. Headley came into score while Romine breezed around the bases, making it all the way to third base for a triple. Instead of having a 1-0 lead at the end of five (which would've been the case if the ball was caught), the score was tied at 1-1, which is how the inning ended.
It could've been worse for the Red Sox, though - the ball could've completed its trajectory and flown over the fence.
Red Sox redemption
For a while, Betts had to gnaw on his teeth, wondering just how costly his error was going to be. The game remained tied until the eighth inning when the Yankees broke through against Matt Barnes for a 2-1 lead. Aroldis Chapman came on in the ninth and looked to be in peak form. But suddenly, Red Sox rookie Rafael Devers caught hold of a triple-digit fastball and crushed it over the fence, tying the game and sending it into extra innings.
Once there, the Red Sox were again able to get to Chapman and Tommy Kahnle, bringing home a run in the top of the tenth inning to regain the lead. In the bottom of the frame, elite closer Craig Kimbrel shut the door, ensuring a victory for Boston. The win gave the team a series victory over their arch-enemies, pushing them further ahead in the race for the American League East pennant. Oh, and the last out of the game? It was made by Betts, who could only give a sigh of relief that the ball fell into his glove this time around, instead of missing it. #new york yankees