Markelle Fultz injury update: Sixers star suffers high ankle sprain
Philadelphia's No. 1 overall pick went down on the court in Saturday's Summer League game.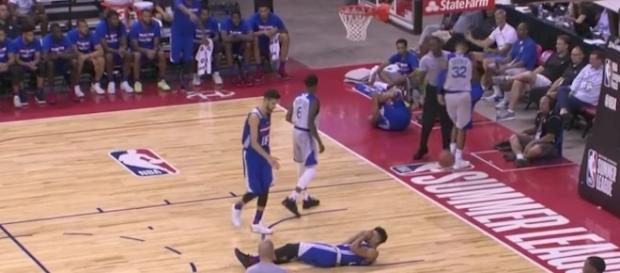 In what has become a scary trend for the Philadelphia Sixers, another of their top picks has suffered an injury ahead of their regular season. This time around it was their No. 1 overall pick Markelle Fultz, who went down on the court in an NBA Summer League Las Vegas game on Saturday night. The Sixers' rookie appears to have what may be an ankle injury and may not return to #Summer League play. Here's the latest Markelle Fultz injury update as of Sunday.
Fultz's injury
The Philadelphia Sixers took on the Golden State Warriors in the late game on the Summer League schedule. In the third quarter, Fultz was defending Jabari Brown and attempted to block his layup.
Unfortunately, as Fultz was landing, he came down on Jabari's foot. From there, Fultz stayed on the court and immediately was clutching as his ankle. After trainers checked on him, he was helped off the court. Fultz finished with eight points in his 15 minutes of game action.
.@JoelEmbiid = all Sixers fans pic.twitter.com/4fjonKt88c

— ESPN (@espn) July 9, 2017
A later injury update from the team indicated that Fultz has suffered a #High Ankle Sprain. He won't participate in Sunday's summer league game for the Sixers. As of this report, no timetable has been given for Fultz's return to action either. The team is clearly going to be cautious with their No. 1 pick and for good reason.
Rough rookie history
Over the past five seasons or so, the Philadelphia Sixers have had great luck in terms of getting picks within the top three, or often No.
1 overall. Unfortunately, that luck has not translated to them appearing on the court much in the season they have been drafted ahead of.
The team drafted big man Joel Embiid out of Kansas with the No. 3 pick in 2014. Embiid had a broken bone in his foot that kept him out of the 2014-15 NBA season, as well as the 2015-16 season. He finally started to play this past season but ended up having arthroscopic surgery for a meniscus tear in his left knee just ahead of the All-Star Game.
In 2016, the Sixers selected Ben Simmons from LSU with the No. 1 overall pick. Simmons was considered one of the most promising talents in a relatively thin draft class. He participated in Summer League games and averaged nearly 11 points, eight rebounds, and 5.5 assists per game. Unfortunately, he rolled his right ankle just before the end of Sixers' training camp. He was out at least three to four months with a broken right foot. It was discovered that the foot hadn't fully healed in February, and Simmons missed the rest of the season.
Simmons and Embiid are both expected to participate in the Philadelphia Sixers' upcoming season. They're also looking forward to the recent No. 1 draft pick making an appearance on the court with them. As of right now, the injury doesn't appear too serious, but based on the Sixers' overall track record, they'll need to stay cautious. #No 1