LeBron James subtly trolls the Celtics with wardrobe selection
The Boston Celtics get mildly trolled by LeBron James before the two teams face off on Wednesday.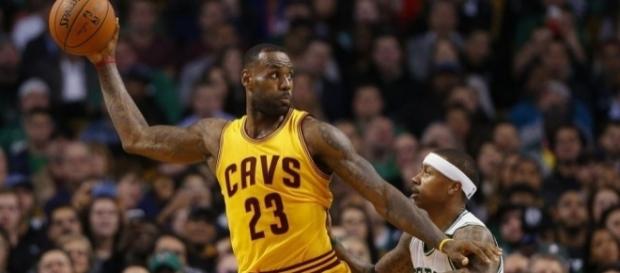 #LeBron James is no stranger to taking subtle shots at someone or a team. Every choice he makes and everything he does has some sort of meaning behind it. On Tuesday, James revealed himself to the media wearing a black tank top containing the Irish mascot from his high school, which resembles the mascot of the #Boston Celtics, Cleveland's next opponent in the playoffs.
everything LeBron does is calculated, including his choice of shirt ahead of the ECF against the Celtics pic.twitter.com/SmrgGSjhCM

— Jordan Zirm (@clevezirm) May 16, 2017
James loves taking soft jabs at opponents to irritate them and fuel some kind of tension.
The Celtics are now likely aware of LeBron's mild trolling, which may ignite them for Game 1 on Wednesday.
The Cleveland Cavaliers won the season series against the Celtics, 3-1, so you get the sense that James has extreme confidence in his team, especially because they are 8-0 in the playoffs.
Boston could use this as motivation
The Celtics could use this as huge motivation to take down the Cavaliers. Cleveland is obviously the clear favorites to win the series, but Boston can take a strong stance by playing hard and physical basketball like they did against the Washington Wizards. The Celtics have home-court advantage as well, which could benefit them [VIDEO].
The funny thing about this whole situation is that the Celtics trolled the Wizards as well in the last series. In Game 6, they wore all black, signifying that they were going to end Washington's season on the Wizards home floor.
Therefore, the Celtics are no strangers to taking subtle shots, too.
LeBron James' dominant playoffs
When you're LeBron James, you have every right to troll teams. The 32-year-old superstar is averaging 34.4 points, nine rebounds, 7.1 assists, 2.1 steals, and 1.5 blocks during the post-season, showing his dominance over the rest of the East.
In a way, LeBron is trying to say that he can get away with trolling other teams because no one is going to do anything about it. If the Celtics are salty about it, they should try to beat James on the court, but it will be an impossible task.
LeBron's history with the Celtics
James has faced the Celtics five times during the playoffs throughout his career, winning three of the five series'. The last time these two teams faced off in the post-season was in 2015 when the Cavaliers swept the Celtics in the first round. LeBron was perfect against Boston when he was in a Miami uniform, but lost twice to them during his first tenure with Cleveland when the "Big 3" era was at its best.
It will be an interesting series as long as both teams take shots at each other off the court like James has. The three-time champion knows how to get under people's skins, and he is simply trying to stir up some drama. #The Boston