Shaquille O'Neal talks about LeBron being disrespected by MVP voters
LeBron James may not win the MVP award this season after having one of his best career seasons, Shaq knows the struggle.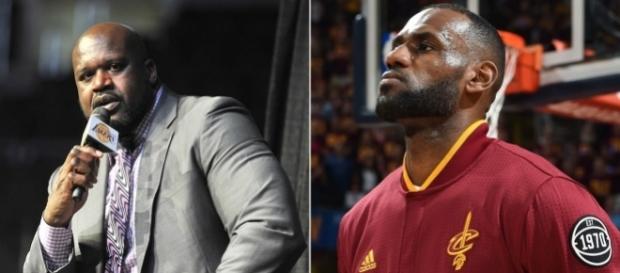 Shaquille O'Neal was in the National Basketball League for 20 long and grueling seasons, playing on six different teams, those include the Orlando Magic, the #Los Angeles Lakers, the Miami Heat, the Phoenix Suns, the Cleveland Cavaliers and finally the Boston Celtics.
In those legendary seasons, he came out with four NBA championships, three final MVP's and a single regular season MVP award. Off the bat, you can see how legendary of a career the 15-time all-star had by just looking at these achievements, but according to Shaquille, he should've had more trophies. Shaq recently talked about the debatable MVP choices that have prevented both himself and #LeBron James from winning the award in seasons they may have deserved it.
O'Neal lets out his anger about the MVP voters choices
Shaquille O'Neal had a lot to say when talking about the regular season MVP award, and the fairness of who receives the coveted trophy at the end of the season. He spoke about himself and LeBron James, and the reason they don't win the award every season, even when they probably should've. Shaq said:
"We could be MVP every year. But the voters don't give it every year, and he's already got four. I should have won three, easily. I should have won three, easily. Kobe should have won three, too. I should have won the two that Steve Nash got over me. It pisses me off. Nash knows."
Shaq is clearly a little ticked off at the fact Steve Nash won two MVPs in comparison to his one. But maybe he's got the point, he debatably had the better statistical seasons over Nash in those two seasons, averaging more points, rebounds, and blocks.
But team record came into play in a big way, and that gave Steve the edge for the Most Valuable Player Award.
Does Shaq have a point?
The Los Angeles Lakers legendary center may have a valid point. LeBron James has been the known as the "best basketball player in the world" for the past eight years at least. But out of those eight seasons, he's won the MVP award in just four seasons.
Same goes for Shaquille, at the time Nash won back to back MVP's, Shaq was widely considered the better basketball player. So is the NBA MVP award voting broken? Or do the voters just look to give it to a new player each year? Either way, Shaq couldn't be more right, the most dominant force in NBA history deserves more than one MVP award. And you could make a debate, while he may have four of them sitting in the trophy case, LeBron James also deserves to win more NBA MVP awards. #Shaquille Oneal