Portland takes the win over the Timberwolves, Crabbe the unlikely hero
The Trail Blazers overcome a 15 point deficit and get a much needed win over the Minnesota Timberwolves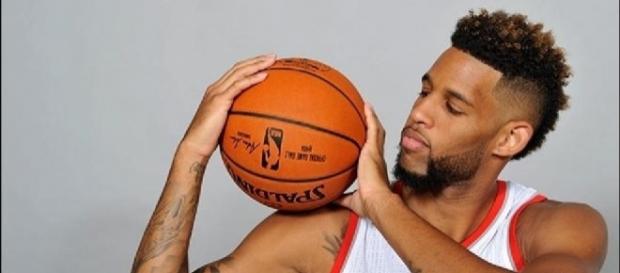 Portland's season-ending homestand started on Thursday night with a matchup against the #Minnesota Timberwolves. The Blazers hosted a young and exciting Timberwolves team at their Moda Center in Portland. It was a packed arena once again with 19 thousand Blazers fans ready to support their team's final playoff push. The Wolves came into this one having lost to the Golden State Warriors on Tuesday night and with no chances of making the playoffs this season.
Timberwolves came ready to play
With all this being said, Tom Thibodeau's team wasn't ready to give this one up without a fight even if they have nothing to play for.
They came ready to compete and started off the game much better. The Wolves opened the game with a big first quarter, they scored 34 points and held a 14 point lead after the first 12 minutes of the game. Going into the halftime the Blazers managed to cut that lead down to eight points, and the score after the first two quarters was 61-53 in favor of the away team. It felt like the Timberwolves couldn't miss in that first half, but in the second half things changed.
Midway through third quarter Portland showed signs of life, as they went on a 17-2 run and tied the game at 72-72. Portland came into the fourth quarter with a deficit of seven points but then #Allen Crabbe showed up and took over.
Allen Crabbe on fire from the three-point line
He scored ten straight points as soon as he entered the game in the final quarter.
In a span of little over two minutes he hit four three-pointers and gave the Blazers their first lead of the game 92-89. The combination of Crabbe's hot shooting and Portland's great defense gave Portland their biggest lead of the game at 103-94. The Blazers ended up winning this one 105-98. They held the Timberwolves to just 11 points in the fourth quarter and only one made field goal in the first seven minutes of the final quarter. Portland was able to hit 14 three-pointers in this game while Minnesota was just 4-18 from behind the arc.
Allen Crabbe was the unlikely hero in Thursday night's win for the Blazers. He came off the bench and finished the game with 25 points and five rebounds. He drained a career-high eight three-pointers and was a key factor in a fourth-quarter comeback for the Blazers. Damian Lillard did a little bit of everything in this one as he finished with 22 points, nine rebounds, and eight assists.
Andrew Wiggins was the leading scorer for the away side. He scored 36 points to go along with eight rebounds. Karl-Anthony Towns helped with 24 points and 16 rebounds.
With this win, the Blazers improve their record to 39-40 this season, and with only three games remaining in the regular season, they are hoping that they can secure that number eight spot in the Western Conference standings. #The Trail Blazers