LeBron James leads Cavaliers to historic comeback vs Pacers
The Cavs managed to overcome a 25 point deficit against Paul George and the Pacers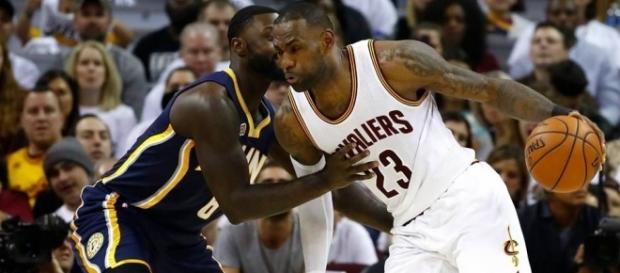 #LeBron James continues to show his greatness in the NBA playoffs. He was facing a 26-point deficit at one point in game three vs. the Indiana #Pacers. LeBron and the Cavs didn't panic and managed to put together the largest playoff comeback in NBA history. James finished the game with 41 points, 13 boards, and 12 assists. LeBron James carried the team in the second half and also got a help from an unlikely source; their defense. Their defense stepped up in the second half and managed to limit the Pacers' scoring opportunities. With this historic comeback, the Cavs might've found the switch they were looking for, and the Pacers might've just lost their series as the Cavs take a commanding 3-0 lead.
Third Quarter Dominance
The Cavs went into halftime looking for answers, as the Pacers were dominating the game 74-49. Many believed that the Cavs would fold and the momentum of the series was finally switching to the Pacers. But in the third quarter, the Cavs finally hit that switch everyone was talking about. The Cavs outscored the Pacers 35-17 in the third, displaying their offensive abilities. LeBron James almost outscored the entire Pacers team in the third quarter, scoring 13 points by himself. James and the Cavs also showed their dominance on the defensive end in the third. The Cavs held the Pacers to 19 percent shooting (5-26) from the field. This is a rare sighting of dominant defense from the Cavs, as they have been one of the worst defensive teams since the all-star break.
You saw the Cavs team many were looking for the second half of the season: a dominant defense with an electrifying offense led by the King himself. The third quarter explosion paved the way for the Cavs historic comeback.
King of the Court
LeBron James finished the game with a triple-double, making this one the 17th of his postseason career. He also passed the Black Mamba (Kobe Bryant) to take third place on the all-time postseason scoring list. He is now only trailing the G.O.A.T in Michael Jordan and Kareem Abdul-Jabbar. LeBron James took over in the second half and led the Cavs to the biggest comeback in NBA playoff history. James showed composure on the court and made the highlight of the night, throwing down a ferocious dunk over a fleeing Monta Ellis. LeBron James' masterful performance has the Cavs on the brink of sweeping the Pacers and moving into the second round of the playoffs. James didn't give the answer to why he thinks the Cavs can repeat as champions, but I think we all know the answer now; LeBron James.
The Cavs now hold a commanding 3-0 lead over the Pacers. Game four is on Sunday, April 23, and it will be in Indiana. The Pacers season might be over already, but the should try to win at least one game in the series. LeBron James is looking to have yet another sweep in the first round, easily making work of a Pacer team that lacks star power (besides Paul George). The game can be seen on ABC at 1 p.m. #Cleveland Cavaliers