Golden State Warriors shooting guard Klay Thomspon will return to the lineup for the Warriors' regular-season finale against the Los Angeles Lakers after missing Monday's game against the Utah Jazz due to rest. Instead, it will be both Draymond Green and Andre Iguodala who rest against the Lakers due to the match having no stakes. Matt Barnes is still ruled out due to an injury to his right ankle/foot; everyone else is expected to be available for Wednesday's night regular season finale.
The regular season is of little importance
The Golden State Warriors will begin their postseason run this weekend against the Portland Trail Blazers; The game is most likely taking place on Saturday afternoon. While the Warriors will be taking the court for the regular season finale on Wednesday night, they will be without two of their most vital players. Draymond Green and Andre Iguodala will not take the floor in the regular season finale against the Los Angeles Lakers on Wednesday, which was announced by Steve Kerr on Tuesday.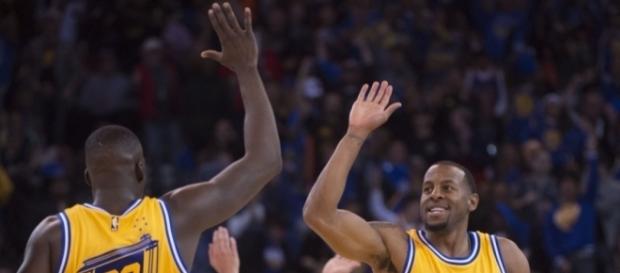 This occurrence will not be the first time the duo has missed a game this season due to rest as both players rested in last Wednesday's win over the Phoenix Suns.
In Monday's night game against the Utah Jazz, Draymond Green was one of the many Golden State Warriors' players who played well below par in their 105-99 loss to the Utah Jazz. In 25 minutes of play contributed with five points, four rebounds, three assists, two steals, a block and two turnovers while registering a plus/minus of -13.
While Andre Iguodala in 23 minutes of play recorded four points, four rebounds, an assist, two blocks and two turnovers and despite being the most consistent Warriors player in the "plus" category Iguodala registered a plus/minus of -2.
The Warriors are now in playoff mode
Steve Kerr resting players on a rotational basis will end Wednesday night for the Golden State Warriors as both Andre Iguodala and Draymond Green will watch their team from the sideline, due to these Warriors having no motivation for regular-season victories with the first seed secured and the playoffs days away.
The Warriors will become sufficiently motivated after Wednesday's night as they will open the first round of the playoffs this weekend at Oracle Arean against the Portland Trail Blazers, most likely beginning on Saturday afternoon.
"The great thing with Draymond is you know he's going to have it in Game 1 of the playoffs," Kerr said. "And that's what matters." While for Kevin Durant, this last regular season game will provide with one more chance to find his rhythm for the playoffs.
Wednesday's game against the Los Angeles Lakers will give coach Kerr a chance of giving bench players James Michael McAdoo (who will start for Draymond Green) and Ian Clark a few extra minutes in the rotation.
Click to read more
and watch the video