Tom Brady's jersey took a duty-free ride
The GOAT's Super Bowl LI jersey is found in Mexico. Suspect Mauricio Ortega named as culprit.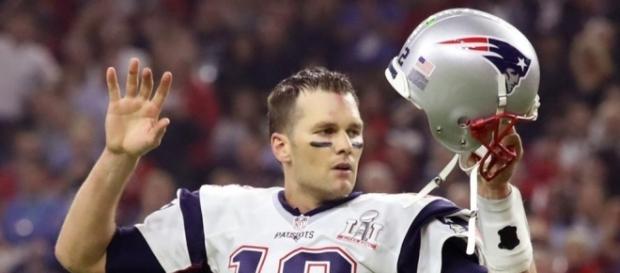 After the New England Patriots' beat the Atlanta Falcons in Super Bowl LI, #Tom Brady could not find his jersey that was in a bag inside the teams' locker room. Brady was upset about the stolen artifact, especially since the jersey coincided with his fifth Super Bowl ring. The jersey was recently found in Mexico.
Locker room video tells all
Locating Tom Brady's jersey was no easy task. Investigators and the FBI had to study video footage on Super Bowl night to pinpoint the sneaky suspect. The name of the jersey thief is stated as Mauricio Ortega. Authorities have stated that he walked into the locker room as an international media member.
The video shows Ortega entering the Patriots' locker room after #Super Bowl LI and then leaving with something suspicious under his arm.
Triple jackpot findings
Not only did investigators find the Super Bowl LI jersey, they also discovered the winning jersey that Brady wore in Super Bowl XLIX. The game ended in a Russell Wilson interception at the hands of Malcolm Butler. Pete Carroll's decision to not give the ball to running back Marshawn Lynch has been criticized by fans and sports analysts for the past two years. In addition to Brady's found jerseys, the helmet of Denver Broncos' Von Miller was also discovered.
Jealously or greed?
Why did Ortega take off with the jersey? The fact that Ortega didn't sell the jersey shows that he probably doesn't need the money that badly. According to the website Heavy.com, Mauricio Ortega is a Mexican journalist, who is quite interested in collecting NFL memorabilia.
He has an autographed book by former Dallas Cowboys running back Emmitt Smith and a sweater from Kurt Warner, the former St. Louis Rams quarterback who has one Super Bowl ring.
The FBI is considering Ortega's actions as a first-degree felony. Perhaps Ortega can add another item of memorabilia to his collection: a court appearance summons if charges are brought against him. Brady's stolen jersey is worth about $500,000. If Ortega had any plans for selling the jersey, he can kiss them good-bye and hope that raising bail money is not in his future. #The Goat