Five replacement options for the Cavs after Bogut's injury
After playing less than 2 minutes in his debut game for the Cavs, Bogut sustained an injury. Is a replacement on the way?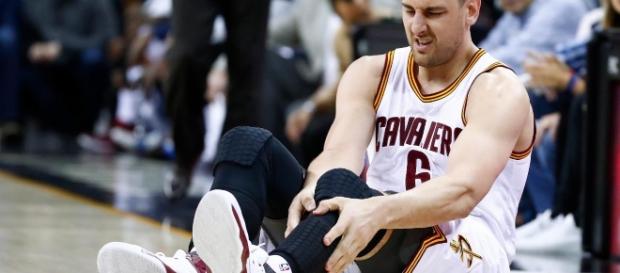 Andrew Bogut is the newest signing for the Cavaliers. The offensively and defensively skilled big man was brought in to play valuable minutes by protecting the rim, and making plays on the offensive end. But all of that has changed now, after Bogut collided with Okaro White just 22 seconds into the second quarter. Injuring his left leg, and needing to be helped to the locker room. This injury could take months to heal, meaning Bogut could potentially miss the rest of the season. Meaning, the Cavaliers may feel it's necessary to release Bogut to make space to sign another player, who is healthy and can be a valuable roster spot asset.
Here's five players the Cavs may target to fill their last roster spot.
Larry Sanders
This is the most likely choice for the Cavaliers. Larry is a long, athletic Center who can block shots and run the floor well. He already met with Coach Lue and the Cavaliers just a couple of weeks ago, Lue was pleased with Sanders game. One uncertainty with Sanders though, is the fact that he left the NBA midway through the 2014-15 NBA season to deal with off the court issues, and the possibility that he is the same or better than he used to be is uncertain. But if Larry Sanders can prove he can still play how he used to, he will defiantly be a player the Cavaliers would look to add to their roster.
Jared Sullinger
Jared Sullinger is 6 foot 9, 265 pound PF/C who plays a solid all around game. Often Sullinger isn't the tallest player on the court, but he does a lot of the dirty work, and for the most part puts his body on the line to get rebounds and get buckets down low.
Jared also has developed a streaky but for the most part efficient jump shot. Sullinger likely won't be someone the Cavs will attempt to sign, but don't be overly surprised if they do.
Eric Moreland
Moreland, a 6 foot 10 center with long arms and a skinny frame could defiantly be someone the Cavs look to add to their roster. Eric is young, just 25 years old, but has already proven his worth in the Cavaliers D-League affiliate, Canton Charge. Averaging a double double and over two blocks per game proves Moreland is a very solid big man. Being close with the organization already, Moreland might be a player the Cavs could eventually sign to their official roster.
Anderson Varejao
This is an interesting one. Anderson Varejao played most of his career in the city he has cherished and loved, Cleveland. Before being traded and then signed by the Golden State Warriors last season. But currently is a free agent again, Varejao is looking for a team to play with that is in contention for a championship.
Not sure if Varejao would play many vital minutes for the Cavaliers in the playoffs, the signing of Varejao would only be for some type of sentimental value. Maybe the Cavs organization wants Andy to be apart of a Cleveland championship. But other than that, there really isn't any other realistic reason the Cavs sign Anderson Varejao.
Kendrick Perkins
Another ex-Cavalier who may soon become a Cavalier once again. The 32 year old, #Kendrick Perkins, like Varejao is a little past his prime. While he could play well on the court, his off the court presence is where he brings the most value. During the Cavs 2015 NBA championship run, Kendrick Perkins was rarely on the court. But he was the most vocal, leader and enforcer off the court for the Cavaliers. Kendrick would always be standing up on the Cavs bench, yelling and making the opposition feel his presence. The main reason you may see the Cavs sign Kendrick Perkins, would be to have that enforcer on the bench, and someone that has already made friendships with Cavaliers players. #Cleveland Cavaliers