Mets' David Wright deserves better than this
Another injury setback puts the start of season in doubt for the third baseman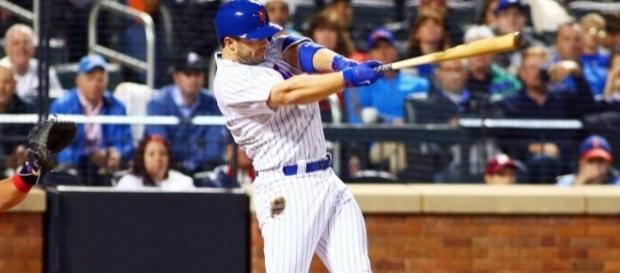 #David Wright played the good soldier for many years in the latter part of his career when the New York #Mets were bad. Really bad. As in four straight fourth-place finishes in the National League East from 2009-2012, followed by a third-place season in 2013. Now that the Mets are a contender, Wright deserves to be part of it, but his body is letting him down.
Mets shut down Wright
The Mets announced that Wright returned to New York from spring training in Florida to have his sore right shoulder checked and it's been determined he has an impingement. Wright won't even throw for a few weeks, meaning he's doubtful for the season opener and who knows how much more.
The last two years have been exciting times for the Mets. They reached the World Series in 2015 and were a Wild Card in 2016. Unfortunately for Wright, he's missed most of those two campaigns, playing in just 75 of a possible 324 regular season games thanks to injury issues.
A subdued Jose Reyes says David Wright has had "the best attitude I've ever seen" in the face of constant injuries. #Mets pic.twitter.com/nLLQKx3AlA

— Anthony DiComo (@AnthonyDiComo) February 28, 2017
Now, at the age of 34, and trying to return from neck surgery that kept him out a majority of last season, Wright has to overcome an ailment that appears to be related to the neck issue. It's fair to wonder if he can get healthy enough to contribute, let alone play, ever again.
Credit to Wright, he continues to rehab to try and make his way back to the third base position he's occupied for the only team he's ever played for since 2004.
He'd probably be better off playing for an American League team at this point so that he could just focus on trying to coming back as a designated hitter, but the Mets don't play in the AL.
Mets in line for big year, even without Wright
The expectations are high for the Mets again this season, with or without Wright. The squad has a loaded starting pitching staff and solid hitting and should make a run at a championship. Wright deserves to be part of it, but time will tell if he'll get that chance.
It's borderline unfair that a guy who has hit 242 homers, knocked in 970 runs, has a career batting average of .296 and has been a quality contributor off the field, might not get a chance to be part of the glory. He's given the Mets everything he has and didn't complain when there weren't many good players around him in the lean years. Wright should have a chance to go out on his own terms and not crawl to the finish line with a broken down body. He deserves better than this. #Baseball