Watch the video of the news article
Don't miss our Facebook page!
Like Blasting News page on Facebook: we will keep you updated with all the latest news.
Lala Kent of "Vanderpump Rules" is speaking out about if she is engaged to her long-time boyfriend Randall Emmett. Recently she posted a picture that showed a ring on that finger. It is a circle of diamonds and does look like it could be an engagement ring. Lala and Randall are doing great so the idea that they could be engaged doesn't surprise anyone.
What did Lala Kent reveal?
Lala Kent appeared on Daily Pop on Tuesday and dished to co-hosts Nina Parker and Morgan Stewart.
She shared that she isn't engaged at all even though it does look that way from the ring. The post she made said, "I love you, R.E." Of course, this post got everyone wondering, but Lala made sure to set the record straight.
She said, "So we've been together...we'll be together two years in February and he gave this to me three months after we started...like if you watch last season I have the same ring on." It isn't like this ring is new or anything that means that she is engaged. That isn't the case at all. Lala probably should have thought before she posted that ring, though. So nope Lala isn't engaged just yet.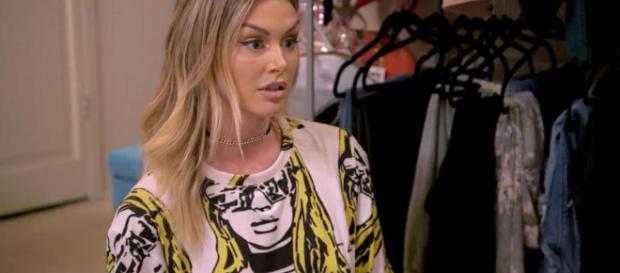 Why did Lala even post this?
Lala Kent shared that she posted this because it was simply a night that she was really drunk. After drinking way too much, she posted the picture and wasn't even thinking about the ring being in it. It sounds like she wouldn't have made this post had she been thinking about the questions it would bring up. At least, she is finally admitting that she is with Randall and not just saying that there is a guy in her life, but not admitting who it was to her fans.
Lala is one of the only ones on the show who has a relationship in good standing right now.
The way that Lala Kent explained it is that this is the ring before the ring. They are very committed to each other and she does seem to think that they will end up married, but they aren't engaged just yet. Actually, Randall's divorce was just recently final, so they couldn't get married if they wanted to anyway. They have been together a while, but she only went public about two weeks ago with their relationship.
Are you surprised to hear that Lala Kent and Randall Emmett aren't married? Do you feel like these two will end up together? Sound off in the comments below on your thoughts, and don't miss new episodes of "Vanderpump Rules" when they air on Monday nights on Bravo. The fans would love the chance to get to know Lala's boyfriend on the show, but it really doesn't look like this going to end up happening.
Click to read more
and watch the video