While in 2017 we had the adaptation of Stephen King's "It," "Gerald's Game," and "1922." It seems there's more horror out there not related to that particular author. Netflix has released the trailer for their upcoming movie "The Open House" with some seriously familiar actors and what looks like a downright terrifying plot.
'The Open House' might put you off open houses altogether
This Netflix film was written and directed by Suzanne Coote and Matt Angel and stars Piercey Dalton and Dylan Minnette of "13 Reasons Why" fame. The story is about a single mom, Naomi, played by Dalton, and her son Logan, played by Minnette. As noted by Screen Rant, Naomi and her teenage son temporarily move into a house in the mountains that belongs to one of Naomi's friends, after suffering a tragedy at home.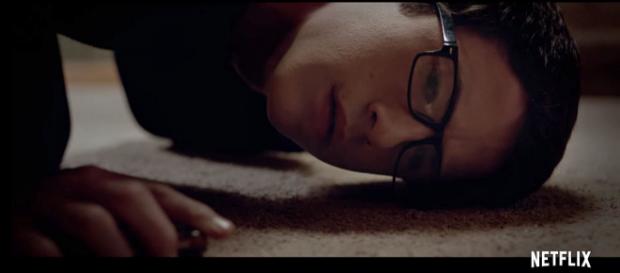 The only thing is, the friend is in the process of trying to sell the house and while they are there, the open houses continue. Naomi and Logan find their newfound neighbors to be over-the-top friendly, making for a not completely comfortable stay, while the open houses happen each Sunday, when they both have to leave the house for the day.
Poster: Netflix's The Open House starring Dylan Minnette https://t.co/paR5GIAGgJ pic.twitter.com/ch2f9QhkFZ

— Arrow in the Head (@arrowinthehead) December 29, 2017
Unwelcome intruder makes themselves known
However, things get worse when mother and son realize someone who had attended one of the open houses might never have left.
In the trailer we see Logan hearing scary noises in the house and when the police are called, they cannot find an intruder. However the terrifying noises continue and it looks like it isn't your every day home invasion, but a creepy and definitely unsettling evil force of some kind.
Dylan Minnette in First Trailer for Netflix's Horror 'The Open House' https://t.co/WTui0gsaRm #horror @Netflix pic.twitter.com/hjSACjz85T

— Alex Billington (@firstshowing) December 28, 2017
While Netflix has had success with other horror movies recently, including, as mentioned above, "Gerald's Game" and "1922," along with the second season of the popular series "Stranger Things," it looks like they are on a horror roll with their latest production.
As for Minnette, while he wasn't really in a horror role in "13 Reasons Why," he did appear in the scary film "Don't Breathe," so it looks like he's getting into an interesting niche as a serious young actor.
'The Open House' streaming on Netflix in January 2018
Other stars of "The Open House" include Patricia Bethune and Sharif Atkins and we won't have long to wait to see the full film. According to the Netflix trailer, it's set to be released on January 19, 2018, hopefully bringing a new year of horror streaming to the little screen.
According to a report by Brinkwire, other scary features coming in 2018 include "Mom and Dad" and "Insidious: The Last Key," so get ready to be terrified!
In the meantime, get scared by the trailer of "The Open House" included below.