Watch the video of the news article
Don't miss our Facebook page!
Like Blasting News page on Facebook: we will keep you updated with all the latest news.
Last night marked the 40th ceremony of the Kennedy Center Honors, and for honorees and faithful viewers, the televised festivities are a feast for the eyes, ears, and soul. The 2017 recipients of the national honor and the National Medal of the Arts were singer, songwriter, and Latin music icon Gloria Estefan, groundbreaking dancer-choreographer Carmen de Lavallade, first-ever rap artist to earn induction, LL Cool J, pioneering television producer-writer Norman Lear, and pop-soul composer-performer extraordinaire, Lionel Richie.
The worthy and eclectic artists honored are only part of the emotional equation of the production. This recognition is the moment of a lifetime, and the performers who pay tribute to the inductees are often even more honored to be the ones on stage paying tribute. Tears and joy flow in liberal amounts from the box "on high," from the stage, and from the assembled audience.
Here are the touching moments that might have been missed among the stunning spectacle of December 26's Kennedy Center Honors performances.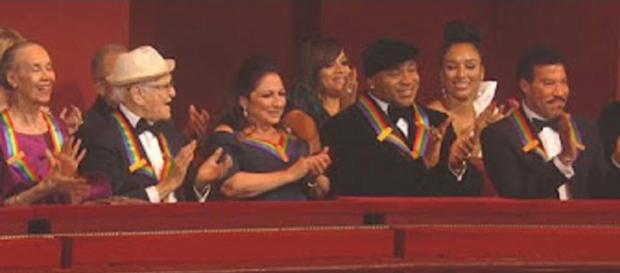 1. Gloria Estefan serenaded by daughter
It wasn't long before tears flowed for Gloria Estefan. What better way to start the festivities than with the high-energy, all from the heart music of the girl born in Cuba, who met the love of her life and her calling to music all at once as a teenager. The Miami Sound Machine ran through a roster of sizzling hits, getting every person's body parts shaking for the night. The inspiring story of Estefan's strength and will to come back from the 1990 bus accident that many doctors predicted would leave her unable to walk.
Loving mother Gloria not only lived to walk and perform again, she lived to have her daughter, Emily.
The most touching words of love and song came from Emily, who shared that the huge courage and inspiration that she grew up with came from a 4'11" frame, even with mom flashing five fingers from the box. Emily sang "Reach" to her mother in stirring authenticity and passion, with a beauty that only a daughter could offer, before the cast of "Get on Your Feet" reinvigorated the crowd. LL Cool J exchanged sweet glances of parental joy with Estefan as she savored her moments.
2. Dave Chapelle calls Norman Lear 'Dad'
Norman Lear has been recognized with nearly every creative honor in television through his 95 years, but he was still clearly touched when Rob Reiner came out to thank him for "forever being known as 'Meathead,'" along with being part of the most culturally-valued series of all time. There was a run-down of all Norman Lear's lineup of hit shows, and Rita Moreno made the point that their topics are still as relevant as the headlines.
Leaving the best for last, Dave Chapelle came out, reminding everyone that Washington DC was "my neighborhood." He recounted learning life lessons from Norman Lear shows, and added that he was "the best dad." The comedian continued that he learned "as long as you could look at someone, and talk, even if you disagreed, you could end with a laugh" and that made all the difference. Chapelle blew a kiss to Lear, and left with "I love you."
3. The world in step with Carmen de Lavallade
Carmen de Lavallade could only find one studio willing to allow a "girl of color" to study when she came to Hollywood.
Her son, Leo Holder, flanked her as she was honored, and spoke of how her aunt, Janice, had been "the first African-American prima ballerina at the Met." That living example of courage and grace only multiplied in Carmen's aspirations, and she not only danced and choreographed in her films but also took daring roles of cultural statements.
Misty Copeland, the principal dancer Of the American Ballet Theater, joined Tony nominee, Robert Fairchild, and Rebecca Luker in performing Jerome Kern's "Bill" from the musical "Show Boat." The spellbinding tribute, backed by the Howard University Gospel Choir, ended in choruses of "She's got the whole world in her hand," echoing from the full audience. Every student ever guided by the knowing hand of Carmen de Lavallade was singing along, and their teacher dabbed away precious tears.
4. Everyone loves 'Cool James'
There was instantly and extra energy in the room when the honors began for LL Cool J. It wasn't just the pump of the beat that brought people out of their seats. It was seeing the buoyant spirit of the honoree himself, moving from his seat, raising his hands and being joined by every fellow inductee, whether they ever knew one of his hip-hop anthems or not.
Queen Latifah came forward in support of her mentor and friend, telling a playful story of seeing him pass in a Mercedes during her own climb up from the bottom. Being the first of his genre to ever be so honored, this tribute came from "next-generation" artists who followed his inspiration. Queen Latifah recalled his goal "to buy moms a house." He was able to do that and much more, but always stay grounded in the intention to use his music as a positive force. "Mama Said Knock You Out," referred to knocking out detention, drugs, and distractions from learning in school. It was a tribute to a mother's counsel.
Busta Rhymes and Spliff did the honors on "Rock the Bells" to close with an elongated chant of "Best of all time," to James Todd Smith, who got the ladies, and everyone else, to love him.
5. Much love for Lionel
Lionel Richie has a catalog of hits that could fill up five separate residencies, besides his "All the Hits" run last year at the Las Vegas Planet Hollywood. Leona Lewis and Luke Bryan served up big love on Lionel Richie hits like "All Night Long," "Sail On," and "Penny Lover," after an opening of "Easy" performed by Stevie Wonder. Kenny Rogers came out of retirement to share his story of meeting Lionel, but once more, the most touching words came from daughter, Nicole. "He is the happiest, most grateful man I know," she spoke of her dad. She asked the audience to look at his face in the moment, insisting "This is how he is all the time." She punctuated her words by saying that her father answers the phone with the word "Showtime!"
With that kind of love and gratitude in the air, it's no wonder that the Kennedy Center Honors continue to be a positive force beyond just being a great holiday television special.
Click to read more
and watch the video