Paul Newman's Rolex Daytona watch sells for world record $17.8 million
A Rolex Daytona watch given to Paul Newman by his wife Joanne Woodward back in 1969 proves that time is definitely money.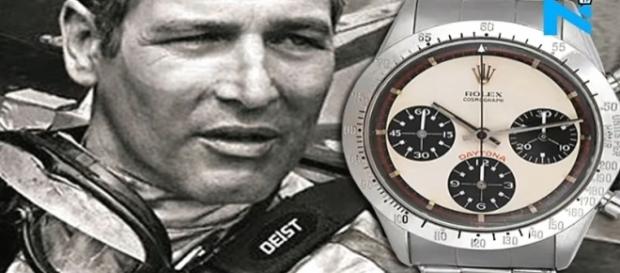 A new world record has been set for the sale of a wristwatch on Thursday after Phillips Auction House in New York fetched a tasty almost $17.8 million for a Rolex Daytona watch, given to the late actor Paul Newman by his wife, actress Joanne Woodward.
Joanne Woodward gives Paul Newman a Rolex
Woodward presented Newman with the wristwatch after he starred in the 1969 movie "Winning" in which he played the role of a racing driver. After the movie, he decided to take up the sport of motor racing himself, leading to his wife presenting the Rolex Daytona to him, with the words "DRIVE CAREFULLY ME" engraved on the back.
The watch has an art deco-inspired dial and was described by the auction company as being the "most iconic collector's wristwatch of the 20th century."
That Paul Newman Rolex Daytona that auctioned for $17,752,500 yesterday - 6 chirons 🤑 pic.twitter.com/3BhjQD0KOi

— Earl Karanja (@Earlsimxx) October 27, 2017
Newman is said to have worn the Rolex Daytona watch daily from when he received it in 1969 until 1984. This led to a craze among watch fans, with the particular style of the watch being dubbed the Rolex Daytona. After the actor made the watch famous, demand reportedly skyrocketed, making the model one of the most sought-after right up to the present day.
Seller used to date Paul Newman's daughter
The name of the buyer, who made their bid by phone, was not released by the auction house. However, the seller was James Cox, who received it as a gift from Newman in 1984. Cox reportedly was dating Newman's daughter Nell at the time and was helping her father fix a tree house.
SOLD! A new World Auction Record, Paul Newman's #RolexDaytona sells for $17,752,500. Join us live now: https://t.co/vm36o2T5hQ pic.twitter.com/dokds2VkJG

— P H I L L I P S (@phillipsauction) October 26, 2017
As reported by the Washington Post, Cox said that Paul had asked him the time, so he could set his watch.
Cox replied saying sorry, he didn't know, as he didn't have a watch. He said Newman appeared to be surprised and handed him the Rolex Daytona, telling him if he winds it, it will keep pretty good time. Cox said at the time he knew Rolex was an excellent brand, but he didn't realize the significance behind the watch. It turns out Woodward had given Newman a new watch, hence he was happy to give that first one away.
Portion of the proceeds to go to charity
Cox isn't just into selling the Rolex for the money, however, as reportedly a portion of the proceeds will be heading to a charitable organization, the Nell Newman Foundation.
Paul Newman, and the legend thereof, obvious remains strong. Wonder who bought that watch? https://t.co/aw3R9RekHT

— brant james (@brantjames) October 27, 2017
As noted by the New York Daily News, while Newman's Rolex Daytona has broken the world record for the most money from a sale of a wristwatch, another timepiece has previously sold for more. They report that Sotheby's sold a 1933 Patek Philippe pocket watch in 2015 for $24.4 million. Amazing considering most of us use our cellphones as timepieces these days.