BTS title track 'DNA' achieved the highest-charting Billboard Hot 100
Rate this title
Continuous success for the K-Pop group, BTS, as they have added more historic records to their list!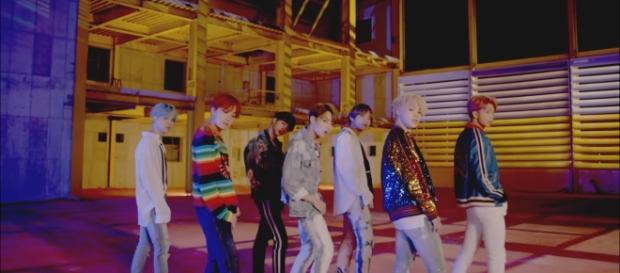 Another week, another milestone for BTS as they became the first K-Pop group to achieve the highest-charting Billboard Hot 100, grabbed the most followed K-Pop act title on Twitter and are being played on the local radio stations in the United Kingdom.
BTS continues to create history as they became the highest-charting K-Pop Group in Billboard Hot 100. After they earned their first appearance on Billboard Hot 100 chart last week (October 7-dated ranking) debuting at number 85, their song, "DNA", jumped to number 67 this week (October 14 list.) In its second week, BTS' "DNA" passed the number 76 peak of the Wonder Girls' "Nobody" in 2009 with top Streaming Gainer honors.
They also achieved the highest-charting Hot 100 title for K-Pop group on Billboard. They became the 2nd K-Pop act to chart an almost entirely Korean-language song on Hot 100 after the South Korean rapper/singer PSY smashed the Hot 100 chart with his song "Gangnam Style" that peaked at No. 2 for seven weeks in 2012.
Most followed K-Pop act on Twitter
On October 1, BTS grabbed the title from BIGBANG's most popular member G-Dragon for being the most-followed artist in and from Korea on Twitter. Currently, the official Twitter account of BTS (@bts_twt) has 8.73 million followers and is rapidly growing.
The group's popularity is rapidly increasing after the release their much-awaited comeback album, "Love Yourself: Her" which debuted at number seven on the Billboard 200. It also grabbed the title of being the first K-Pop group to enter Billboard 200.
Twitter became the group's way to communicate to their fans. With the increase of their popularity, BTS always thank their fans through their official Twitter account.
The group's title track 'DNA' played on local radio station
Thanks to BTS' fans called ARMY, the Title Track of the group's comeback album, "DNA," was played on BBC Radio twice. BBC Radio is a local radio station based in the United Kingdom. The host of the radio station, Adele Roberts, played the song "DNA" once. With a surprising response from the ARMYs, Adele Roberts, made a promise to ARMYs to play BTS' song "DNA" again if the hashtag, #BTSBestNewPop, trended in an hour. Thanks to ARMYs full support, the hashtag directly trended worldwide on Twitter. As Roberts promised, the song "DNA" was played again on BBC Radio.
Not long to go now #ARMY. @BTS_twt are on @BBCR1 in less than an hour!.. loaded & ready to go. Where are you listening? 🌎 #BTSBestNewPop pic.twitter.com/P9usqn1nu2

— Adele Roberts (@AdeleRoberts) October 2, 2017
ARMY. If you make this 👉 #BTSBestNewPop trend we'll play it again 😜 https://t.co/SVe9chnZSl

— Adele Roberts (@AdeleRoberts) October 2, 2017
Thank u to the @BTS_twt #ARMY for such a fun show & getting the boys played TWICE! Listen back here 👉 https://t.co/iAXwLLyb6t #BTSBestNewPop pic.twitter.com/NwqwRtqgzH

— Adele Roberts (@AdeleRoberts) October 2, 2017
The unbreakable bond of BTS and their fans, ARMY, is really amazing.
As BTS always say, "Teamwork makes the dream work."
Click to read more
and watch the video
or