'Fifty Shades of Grey' author reveals new twist in Jamie Dornan's character
Christian Grey tells the fourth story from his own point of view based on "Fifty Shades of Grey"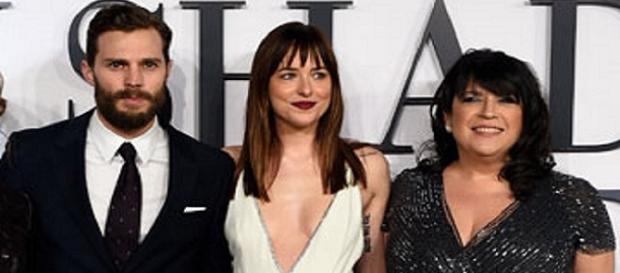 E.L. James, author and producer of the "fifty shades" trilogy, has published "Grey: Fifty Shades of Grey as Told by Christian." "Grey" as it is called was released right after "Fifty Shades Freed."
The fourth installment will be from Christian Grey's point of view. All the first three novels turned into films are from Anastasia Steele's perspective. Dakota Johnson's character is the focus of "Fifty Shades Of Grey," "Fifty Shades Darker," and "Fifty Shades Freed."
'Fifty Shades' fourth novel from Christian Grey's personal account
The fourth novel was another hit as it gives a new twist to Grey's character says HOF Magazine. Many are saying that it will be more sensual knowing Christian's odd sexual behavior.
The possibility that the new book will be turned into another blockbuster movie has a high probability. The only hindrance might be the lead stars Jamie Dornan and Dakota Johnson's availability to reprise their roles.
It can be recalled that Johnson has several film projects lined up for her. Dornan is also filming for "Robin Hood: Origins" which will take several months to finish. The husband of Amelia Warner has informed after the filming of "Fifty Shades Freed" that he is done with the franchise. He wants to move on from his sexy image and play varied roles.
E.L. James has reiterated before that she is very impressed with Dornan's portrayal of the billionaire lover of Anastasia Steele. In fact, she credits the success of her films to the two lead actors.
The author of "Fifty Shades of Grey" believes that Dornan and Johnson caused the multi-million sales of her books and the success of the first and second films based on her novels.
Fans want fourth Jamie Dornan Dakota Johnson film
"Grey: Fifty Shades of Grey as Told by Christian" was published on June 18, 2015. Before it hit the stands, a copy was stolen and was investigated. Critics found the novel closely similar to "Fifty Shades of Grey." However, the fan reception of the book was tremendous, and they hope to see it on the big screens according to Inquisitr. More than 1 million copies of the book were sold in its first week of release.
For those who are not familiar with the "Fifty Shades" story, Christian Grey, an adopted son of a billionaire couple became the CEO of their company.
He met the aspiring applicant Anastasia Steele, and he eventually fell for her. They had a relationship that later turned into an abusive, one-sided affair until Steele called it quits.
In "Fifty Shades Darker" they had reconciliation, but this time, Grey has to abide by Steele's conditions. However, just as the relationship was going smooth, people from his past caught up with him and created chaos in their lives. The third story titled "Fifty Shades Freed" will see the Jamie Dornan and Dakota Johnson tying the knot and having children. The third film will be released in February 2018.
Click to read more
and watch the video
or