Paige VanZant deletes sexy video after backlash from fellow fighters
UFC star intended to advertise her new Reebok line through the video but other UFC fighters are not happy about it.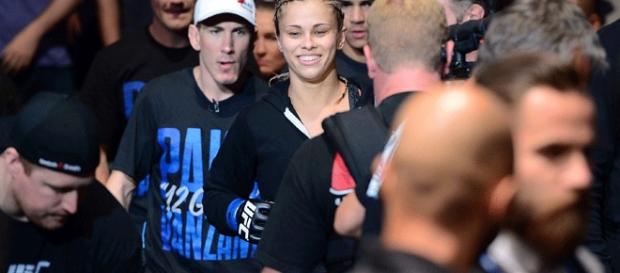 UFC star Paige Vanzant recorded a Video to advertise her new training kit. The self-made promo video features Paige speaking in a sexy manner while showing her stomach. But it appears that not everyone was impressed with her video. As a matter of fact, her fellow female fighters had something to say about it on Twitter
The controversial video
The short video is intended to promote her new Reebok clothing line called "Black and White." While chatting how much she loves the clothes, VanZant is seen running her hand over her body. She also lifted her clothes to show her sports bra and stomach.
Later on, VanZant rolled around the rug while she continued talking. Followers of the 23-year-old Strawweight left positive comments about Paige praising her looks and her MMA skills.
But, unfortunately, she failed to impress everyone.
But since the video received negative comments from other UFC fighters, VanZant deleted it. Instead, she shared several images on her Instagram account promoting the new line.
Other UFC fighter's comments
After sharing the video on Twitter, VanZant was slammed by her fellow UFC fighters. Angela Hill posted that the video is like a sex ad. She even added a number saying, "call 1-800-HOT-GIRL."
As for Lauren Murphy, she said that she thought it was a fake ad. Lauren described the video as creepy while saying that VanZant is pretty but what she did was just gross. She also shared a series of tweets aiming at Paige.
Jeremy Kennedy wasn't pleased with the video as he wrote, "What the hell did I just watch." Meanwhile, Ben Askren is asking for the release of the X-rated version.
But despite that, her fans came to her defense. One user even said that the fighters judging her have three things in common, they are all hypocrites, they are jealous and they are not ranked. Another user said that the other fighters just want what she got.
Just call 1-800-HOT-GIRL and talk to real live girls. We can't frickin wait to answer your call. Call now! https://t.co/HIJlbhhOCN

— Angela Hill (@AngieOverkill) April 30, 2017
VanZant's career
Paige VanZant became a professional competitor since 2012 and she was a fighter in Invicta FC. Eventually, she moved to the Ultimate Fighting Championship in December 2013. During that year, she was one of the 11 women who signed for UFC and a new cast member of "The Ultimate Fighter" reality television series.
As of January 2017, she ranked No. 10 in the UFC Strawweight division.
She was also part of "Dancing With The Stars" in 2016 with Mark Ballas as her partner. The pair finished second place in the show's finale. Aside from that, she also inked a book deal for her memoir where she shared her life story.
Two years ago, she earned a solo Reebok deal which stirred controversy to her fellow fighters since they believe that VanZant hasn't proven herself yet. Instead, they believe that she was merely chosen by Reebok because of her looks.
Click to read more
and watch the video
or