'Shots Fired,' features Sanaa Lathan, Mack Wilds plus Richard Dreyfuss and premiers March 22nd on Fox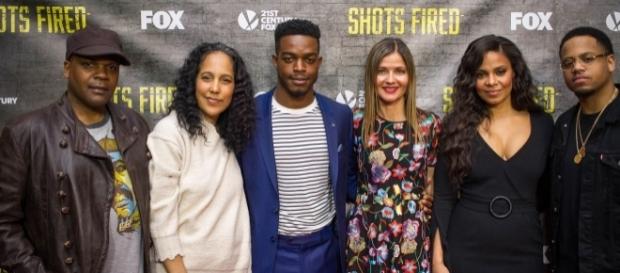 During turbulent times we usually look to TV to help us escape the madness, but sometimes television has a way of allowing us to see things from different perspectives. Although art usually imitates life; a new show from #FOX is putting a unique spin on race, law enforcement, and society. "Shots Fired" is a 10-part mystery that examines the dangerous aftermath of two racially charged shootings by law enforcement in a small southern town. This show will evoke much-needed conversation and hopefully, true dialogue.
The NYC screening for 'Shots Fired' did not disappoint
FOX hosted a New York City screening which showcased many of the show's stars.
The night began with a cocktail reception then it was followed with our descent to the theater where we had the pleasure of sitting down and watching the first episode of the show. Afterward, we were greeted by a great Q&A moderated by Associated Press editor Nekesa Moody with cast members Sanaa Lathan, Stephan James, Mack Wilds, Richard Dreyfuss and Jill Hennessy. Other notable stars were in attendance, activist Nicole Paultre Bell (fiancée of Sean Bell), fashion legend Bethann Hardison, actor and singer Rotimi from the amazing show POWER, also NY City Councilman Jumaane Williams, actor J. Alphonse Nicholson ("Shots Fired") and model Ebonee Davis.
Why Fox's new show is needed and necessary
"Shots Fired" was the brainchild of acclaimed film creators, Gina Prince-Bythewood and Reggie Rock Bythewood.
This show doesn't lack quality acting, with an all-star line-up led by the talented Sanaa Lathan, Mack Wilds and Helen Hunt. "Shots Fired" takes a look at two controversial shootings and how perceptions and race plays a part in how both incidents are handled. After watching the first episode, I felt angry, inspired and angry again. "Shots Fired" takes you on ride that might make you uncomfortable, the storyline will make you pick sides and show your allegiance. It's safe to say this show is a must-watch so make sure you see it from the very beginning. The series premieres this Wednesday March 22 at 8/7c on FOX, follow the show on social media at @ShotsFiredFOX using hashtag #ShotsFired
Click to read more
and watch the video
or