Kathy Bates weight loss wows in Super Bowl commercial: What's AHS star's secret?
Turbo Tax Super Bowl commercial shows Kathy Bates maintaining weight loss: 'American Horror Story' star shares health scares, scary-easy tips to lose.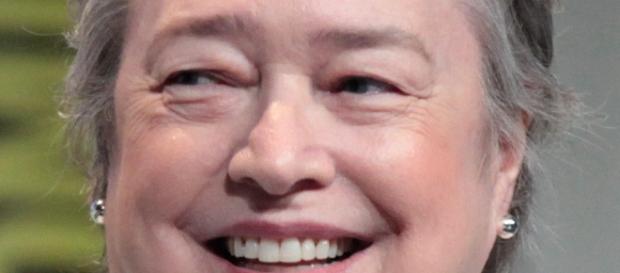 More than the halftime show, appetizers, and even the game itself, the Super Bowl commerical lineup is often one of the most anticipated parts of the NFL event. Top slot for funniest #Super Bowl commercial went to Turbo Tax for Humpty Dumpty. But the #kathy bates Turbo Tax ad was popular too. Along with her funny "scary dependents," Bates showed she's maintained serious weight loss. The "American Horror Story" star opened up on her slimmer figure, which is down to hard work, health scares, and a scary-easy diet tip.
Kathy Bates' cancer nightmares
Ms. Bates plays some pretty creepy characters -- Agnes Mary Winstead, Madame Delphine LaLaurie, Ethel Darling -- in "American Horror Story." But witches and sadists can't touch her most terrifying part as a real-life double cancer survivor.
Bates has fought and beat both ovarian cancer and breast cancer. She underwent a double mastectomy and lost 22 lymph nodes. And then, if that wasn't bad enough, The "Misery" star developed a dangerous health condition called lymphedema. Missing lymph nodes cause fluid to back up, creating painful swelling and inflammation. Many patients on the TLC reality television show "My 600-lb Life" struggle with the condition.
What cancer taught Kathy Bates about obesity
The cancer battles weren't without some positives. The "Delores Claiborne" star has learned three very important steps to staying cancer-free. First, Bates says, track your own health. If something doesn't feel right, get to the doctor and have it checked out. Don't put it off until it's too late. Next, develop better diet and exercise habits.
Daily walking was a great toner for the "Harry's Law" star. And watch your weight -- don't let it escalate out of control. Weight gain and obesity increase cancer risk, along with heart disease and Type 2 diabetes.
Kathy Bates shares simple weight loss tip
Bates' character Evelyn Couch in "Fried Green Tomatoes" struggled with obesity and depression. She began eating healthy and exercising and slimmed down. Bates says it's not easy to keep up with diets in a busy lifestyle. But she did practice one of Couch's methods. Couch dropped junk food and Bates cut soda from her diet. That alone helped weight loss. She also worked hard to make better food choices. As the Super Bowl commercial shows, her maintenance diet is keeping the weight off. Bates certainly hasn't let health troubles slow her down. She stars in a new "stoner comedy" on Netflix called "Disjointed" about a mom who runs a pot dispensary with her sons. #Weightloss