What does 21st century art look like? Check out art by women!
21c Museum Hotel in Louisville new show 'The Future is Female,' renders Jeff Koons an old fogey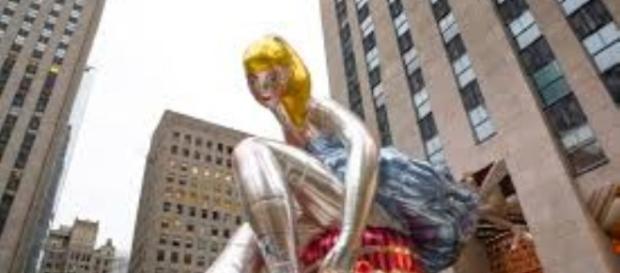 "#The Future is Female" is an exhibit at 21c Museum Hotel in Louisville that points to the new look of feminist art, and both politics and the environment are in the picture. To hear noted feminist writer Lucy Lippard tell it, "The goal of feminism is to change the character of art." Apparently, it has. As New York Times art critic Holland Cotter has written, "Most of what we call postmodern art has feminist art at its source."
Dancing in the dark
What does the new feminist art look like? Consider Alison Saar's exhibit example "Hades," which pairs reality with myth. What you see are figures drifting in five glass jars of dirty water, each labeled with the name of the five ancient waterways of the Greek underworld.
Presumably, the floating figures are hovering between the living and the dead. That new feminist art isn't the old female complaint about inequality. And even when it goes there, it doesn't look all that familiar. Kiki Smith's mixed media etching "Ballerina Stretching Left," tells of a dancer +waving her arms high in the air, as if trying to escape unseen arms.
Beauty is in the eye of the beholder
All of which puts Jeff Koons' "Seated Ballerina" - his new 45-feet-tall balloon sculpture held down by ropes in Rockefeller Center - out of step. And typical of Koons, this work is hot original. He borrowed the figure from a porcelain ballerina found in a factory in Russia he thought beautiful. Describing his rendition, he said his work "is really about beauty, and even a sense of ease." For him, maybe.
"Seated "Ballerina" is a giant Barbie doll - an anorexic, blue-eyed, blonde in a tutu colored to match her eyes.
What, no Ken doll?
Wait, there's more: "I hope the installation of "Seated Ballerina" at Rockefeller Center offers a sense of affirmation and excitement to the viewer to reach their potential," he said in a statement. I rush to say that Koons' concept of a ballet dancer to admire is no worse than those by Edgar Degas, although the old Impressionist didn't even try to make nice.
That's so 19th century!
An avowed male supremacist, Degas deemed the female gender "animals" unable to appreciate art, let alone creating it. In his words, when it comes to women, there's an "absence of all feeling in the presence of art." His disdain can be seen in his imagery of ballerinas. One example, "L'Attente" depicts naked dancers seated with their legs spread apart to bare their genitalia. His other works describe dancers in unflattering ways like yawning or scratching. This accounts for why 19th-century art critic J.K. Huysmana characterized Degas work as "debasing the female while seeming to honor her." Can Koons be doing the same thing? #21St Century Art