Mitch Trubisky working hard in his pro day to wow all 32 NFL teams
At his pro day in North Carolina, Mitch Trubisky took the scripted plays to showcase his arm strength and accuracy to try to further his draft stock.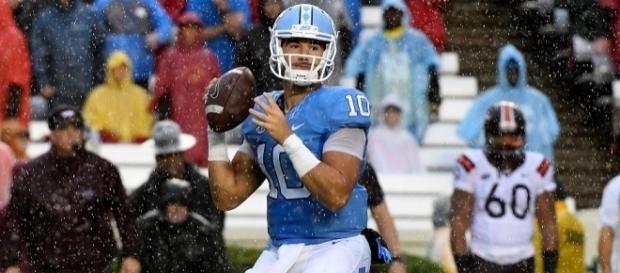 There were 75 NFL officials from all 32 teams that came out to see this glorious pro day from #Mitch Trubisky. Just think that eight months ago most of us didn't even know who he was, now Mitch might be a #1 overall pick in this year's draft. Trubisky said that he met with several teams including the Browns, 49ers, Jets, Chiefs and Cardinals.
"I'm very happy with how the process has gone so far. I'm confident in myself and I'm just going to keep it rolling and I just can't wait to play some more football," he said to reporters after the workout.
Mitch Trubisky working himself into being a top 10 draft pick
At the pro day, the 6'3" 220 pound QB threw to his group that included Ryan Switzer, Elijah Hood and T.J.
Logan. He focused on his scripted on-field workouts to show off his arm and accuracy.
Mitch Trubisky warms up. pic.twitter.com/weTUSnmV1r

— ABC11Charlie Mickens (@GameDayCharlie) March 21, 2017
This workout was most important to Mitch Trubisky because of the limited game tape there is from him. From all accounts at the camp, he only threw one bad ball out of 68. Mitch will soon start the tour of individual workouts with the NFL teams. This will give them a better look at him individually. Not to say that these pro days aren't important but getting him out of his comfort zone can give teams a better understanding of what they would be drafting.
Big mistake drafting Mitch
In the last 20 years of NFL drafts, all the QB's that come out of college early have been busts except four. Those 4 are Matt Ryan, Joe Flacco, Cam Newton and Andrew Luck.
I'll let you debate in your heads what you think about Matt Stafford. There is just overwhelming evidence that you should stay in college. Now to me, what makes a franchise, and there is no debating this, is obviously a QB, as you can see in the playoffs. The #Browns in most of these situations can't help themselves but take this guy after he had a good combine and pro day. But really, because Kiper has him on his big board as the best QB, and since there is no one in the Browns organization that knows anything about football, he may just go #1 to Cleveland. #Nfl Teams