Deep wide receiving class coming out of the combine
The one chance to see just how fast these guys can actually run the 40.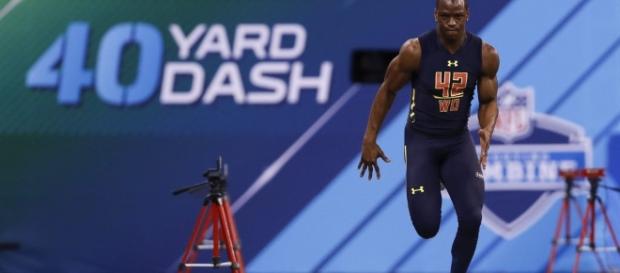 If you are looking for a wide receiver this year, don't worry there are plenty. Watching the #combine this year made it clear that you can wait till later rounds and still bag yourself a pretty good receiver. There were some very surprising results and some records broken. Here is a look at the guys that I would want my team to draft. They will have some good productive years in the NFL
Robert Davis
@Robert_D13 Future Giant?? pic.twitter.com/uyARDnooid

— Giants Community (@GmenCommunity) March 5, 2017
Robert Davis saw his draft stock soar higher than anyone over the weekend. Davis is coming out of a small school called Georgia State.
Not too much attention has been put on this guy, but they all are now. Robert has great size at 6'3" and coming into the combine at 219 pounds. At that height and weight Davis still managed to run a 4.44 40 which is out of this world fast. Davis is getting compared to Julio Jones coming out of the combine.
Amara Darboh
Amara Darboh doin' work at the #NFLCombine pic.twitter.com/NY0pI9gqdi

— Def Pen Sports (@DefPenSports) March 4, 2017
Now I'm going to be a little biased with Darboh because of me being a huge Michigan fan. But there really is no denying how good this guy might be at the next level. These wide receivers are just getting bigger each year and he doesn't disappoint. At the combine, he came in at 6'2" and 214 pounds. Darboh's size is perfect for what most teams are looking for and with his 4.46 40 he will fit in perfectly.
I had the chance to watch him every game and any team the drafts him will be getting a special player.
Zay Jones
treydaubert: Zay Jones runs unofficial 4.46 - 40 time NFL Network NFL Scouting Combine https://t.co/PhQ7ZVj7SU pic.twitter.com/PXSm9cnDaG

— FanSportsClips (@FanSportsClips) March 4, 2017
Some people are saying that Zay won the combine. Jones had a heck of a Senior Bowl that had already boosted his draft stock up to the second round. All he had to do was not blow it in the combine. Zay showed up and impressed all the scouts. Another good size wide out coming in at 6'2" and 200 pounds. It really looks that this size is what a wide receiver must be now. With his great 40 time and his other workouts he is now projected to go late first or early second round.
John Ross
OH. MY. GOODNESS.
JOHN ROSS!!!! 🔥@UW_Football WR @WatchJRoss runs 4.22u 40-yard dash.

(cc: @chrisjohnson28) https://t.co/kkeUVDIMeQ

— NFL (@NFL) March 4, 2017
For everyone's enjoyment, the fastest 40 time ever recorded at the combine. John Ross should have pulled a Deion Sanders and just left the building right after he ran. #widereceiver