Four men tried to rob and kill an MI marijuana grower, two robbers shot dead
Two criminals are facing life in prison after a failed robbery attempt in Michigan.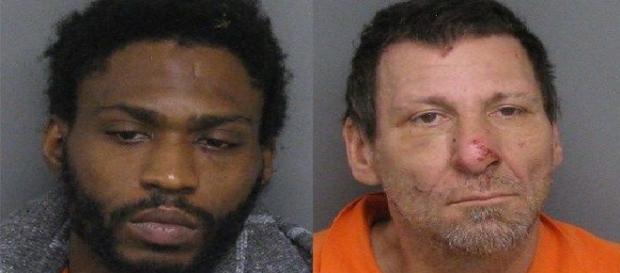 Four armed men participated in a robbery and murder scheme in a #Greenleaf Township, Michigan home on September 19. They intended to rob the premises and kill whoever they found inside. Their plans were thwarted by an armed resident who shot and killed two of the men according to The Times Herald.
A quiet road erupted with gunfire
The horrific scene took place at 5 AM on Holbrook Road, which is usually quiet save for the passing by of an occasional vehicle. Sgt. Nathan Smith of the Sanilac County Sheriff's Office spoke to local television station ABC12 and said the "homeowner was sitting at his coffee table when the door was kicked in and one of the defendants, or another assailant, had immediately fired a round off."
In the initial moments, one of the residents inside was shot in the leg, but another resident returned fire towards the criminals.
When the smoke cleared the armed resident had shot two of the men. Both died. The resident's wound was not life-threatening. The names of the residents have not been released by police. The assailants have been identified as Quantize Bruce, 20, Keith Saunders, 26, Preston Xavier Jack, 30, and Stephen Vance Shimmel, 48. Saunders and Jack are brothers, while Bruce and Shimmel are of no relation.
Police have not released all details of the shooting as the investigation is still ongoing. What is presently known is both Bruce and Saunders were killed. One died inside the Greenleaf Township home, while the other attempted to flee in a vehicle with Jack and Shimmel.
The vehicle was found crashed a short distance away in a ditch with a dead male in the driver's seat. Shimmel was discovered hiding in the woods near the crashed vehicle and gave up without resistance.
Jack was able to flee, on foot, five miles from the scene and sought the assistance of neighbors he encountered.
Those neighbors were not hospitable to Jack's request and instead reported his presence to police. Jack was quickly apprehended. The vehicle used by the men had been previously reported stolen over a month ago from Flint, MI which is nearly 80 miles from the scene of the shooting. This type of incident is termed defensive gun-use, where citizens use guns to defend themselves from criminals.
Police reveal the motive
Investigators say the four did not target the home at random. Inside the walls of the modest structure housed a lucrative marijuana growing operation worth tens of thousands of dollars. The homeowner claims to be licensed by the state to grow #Medical Marijuana, but police have not yet verified the validity of the homeowner's statement.
WNEM 5, a CBS affiliate, reported, "A caller told 911 dispatchers three men broke into his home and shot him in the leg." This is consistent with what Jack has stated according to ABC12.
Jack claims, "I told my brother, "don't go." He went anyway. I rode with him, I slept the whole time, by the time I woke up it was already going down. My brother was hurt and shot."
Two surviving criminals face life in prison
Jack and Shimmel were arraigned on Nov. 21 in Sanilac County District Court. Regardless of Jack's claims of not participating in the actual robbery, while admitting to having knowledge of the crime and riding along to the scene, he has been charged with the same crimes as Shimmel.
Both men were in possession of firearms during their arrest and have been charged with armed robbery, first-degree home invasion, firearms possession by a felon, assault with intent to murder, carjacking, receiving and concealing a stolen motor vehicle, using a firearm during a felony, two counts of assault with intent to rob while armed, and two counts of assault with intent to murder.
Both were denied any type of bond and will be held for the entirety of the legal proceedings in Sanilac County Jail. Their next court appearances are November 28 and December 5. If convicted on all charges Jack and Shimmel will face numerous life sentences.
Shimmel is no stranger to incarceration and was released in February 2017 from the Michigan Department of Corrections. He has previously been convicted of larceny, breaking and entering with intent, and assaulting a police officer.
Michigan does not have the death penalty
Michigan has the curious distinction of being the first English speaking territory in the world to abolish the death penalty, which was enacted into law in 1846. The only exception to the abolishment was in the case of treason, but no such cases were ever been prosecuted in the state. Michigan's constitution was amended, according to deathpenaltyinfo.org, in 1962 to ban the death penalty from being levied regardless of the crime. #defensive gun use