Watch President Donald Trump 'body slam' CNN in video on Twitter
Rate this title
The latest in Trump's feud with CNN is an edited video, showing him body-slamming a WWE person with the CNN logo superimposed on the face.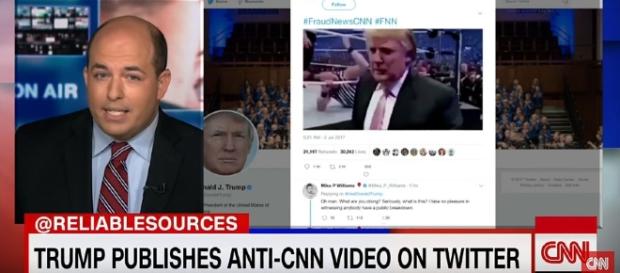 President Donald Trump's feud with CNN and the media on Twitter went to a whole new level Sunday morning. Trump tweeted a video of himself body-slamming someone in a wrestling match, edited to place a CNN logo over the person's face.
Video shows Trump 'body-slam CNN'
According to a report by ABC News, the original footage was taken at a World Wresting Entertainment (WWE) fight in 2007 where Trump literally body-slammed Vince McMahon, the WWE chairman. Not only that, he then went on to punch McMahon repeatedly.
The Orlando Sentinel reports that Trump had taken to Twitter Saturday to say he was considering changing the hashtag #FakeNewsCNN [VIDEO] to #FraudNewsCNN.
In his new tweet on Sunday morning, he did just that, adding #FNN to the tweeted caption to the video.
#FraudNewsCNN #FNN pic.twitter.com/WYUnHjjUjg

— Donald J. Trump (@realDonaldTrump) July 2, 2017
The latest incident on Twitter follows his recent attack on Mika Brzezinski [VIDEO] and Joe Scarborough of "Morning Joe," which drew condemnation from both parties for its personal nature.
BBC #WorldNews Republicans round on Trump over 'bleeding facelift' tweet https://t.co/tkl08WZ9Uo

— Riskinfo (@riskinfo) June 30, 2017
However the violence shown in this latest tweet also goes in total opposition to his reaction to the shooting which targeted GOP congressman, leaving Rep. Steve Scalise in what was initially a critical condition. After the shooting, Trump called for national unity against the violence, while his latest tweet goes on to call for violence against the media.
Sarah Huckabee Sanders, the White House Deputy Press Secretary, issued a statement on Thursday about Trump's Twitter habits. She stated that the U.S. President has never promoted or encouraged violence. She went on to say Trump was merely defending himself and merely pushing back.
In CNN's reaction to Sunday's violent video tweet, senior media correspondence Brian Stelter deemed Trump's latest actions as being "juvenile behavior" which was "below the dignity of his office." He captioned his tweet saying CNN will continue to do their job and the U.S. President should start doing his.
CNN statement responding to the president: "We will keep doing our jobs. He should start doing his." pic.twitter.com/Gn1YRA2DRG

— Brian Stelter (@brianstelter) July 2, 2017
Stelter is also heard talking about the incident in the video below. He says at this moment the U.S. President is "grappling" with Senate Republicans over the missed deadline on healthcare, is about to have a meeting with Russian President Vladimir Putin and attempting to deal with North Korea.
However, what Trump is actually doing is wrestling with CNN. He then shows the video of Trump body-slamming McMahon.
Stelter said the video was first posted on their Reddit message board days ago, but has now shown up on the President of the United States' Twitter feed. Stelter also mentioned there has been a wide range of reactions to the video, saying the tweet was actually "scary and dangerous."
The Orlando Sentinel quoted several of the media reactions to the latest Trump tweet. Among them, one of their own reporters, Carl Bernstein, raised the question as to Trump's state of mind and stability, telling "Reliable Sources" on CNN that the post was against the freedom of the press.
Speaking for the Washington Post, Eugene Robinson made the valid point that the tweet in question is an official communication from the U.S. President.
Lawmakers blast Trump's "crude, false, and unpresidential" CNN tweet https://t.co/VzQXxcQLHp

— Washington Post (@washingtonpost) July 2, 2017
BBC World News America reporter Katty Kay said the president is promoting violence with the video tweet. In a tweet of her own, Kay noted that GOP Senators don't seem to be condemning the CNN wresting video like they did the ones about "Morning Joe."
Haven't seen GOP Senators condemn the CNN wrestling tweet the way they did the ones about @Morning_Joe

— Katty Kay (@KattyKayBBC) July 2, 2017
In the further video included below, Martha Raddatz of the ABC News show "This Week" spoke with Homeland Security Adviser Tom Bossert about the video, where Bossert, who said there was no threat implied by the video. He called Trump a "genuine president," who has the right to respond to the way he is "beaten up" on cable, among other statements.
Click to read more
and watch the video
or