United Airlines passengers tackle 'disruptive' woman on flight
As a woman started yelling and hitting the walls of the plane, then made a mad run for the cockpit, fellow passengers were forced to restrain her.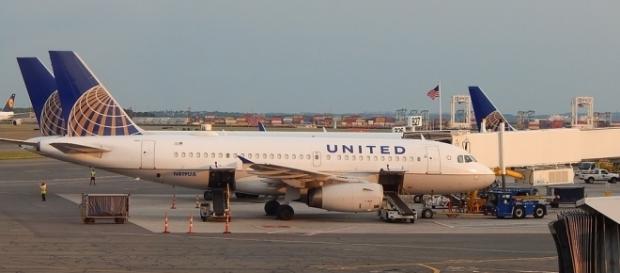 It happened halfway through united airlines flight 898 out of Houston and bound for New Orleans on Saturday when a female passenger started screaming and hitting the plane walls. She then reportedly leaped from her seat and started sprinting towards the cockpit. Once the woman was subdued, the flight was then forced to turn around and return to Houston to deplane the disruptive passenger.
Passengers on United Airlines flight tackle woman
ABC 13 Eyewitness News quotes one of the passengers, Julian Markowitz, as saying the woman was screaming out that they are all loved and protected and that the plane was going to land "kindly and beautifully," as she sped down the aisle towards the cockpit.
Markowitz instantly asked a flight attendant if they needed help with the woman, who said yes. He said he then ran down the aisle after the passenger. As he ran, several other passengers jumped up in an effort to restrain and control the woman and he said it took five men, including one off-duty pilot on the flight, to finally restrain her. He said the woman was in a psychotic state and was very aggressive.
Wrestling coach tackles United passenger as she runs
Fox 8 News reports another of the passengers who assisted flight crew was Rummel wrestling coach, John Kent. Kent said during her mad dash, the woman punched two of the flight attendants to get them out of her way. He said he had to try and hold the woman's face down to stop her from biting him.
Passengers on a United Airlines flight from Houston to New Orleans had their trip delayed after a disruptive ... https://t.co/h0mgUqqRva pic.twitter.com/maVbj4IIqo

— Republic Buzz (@republicbuzz) July 25, 2017
Markowitz said the United cabin crew handed out zip-tie handcuffs to the men, who restrained the woman's wrists and ankles to keep her under control for the return flight to Houston.
He said he then smiled at the other passengers to assure them everything was under control.
Police find a weapon on the woman passenger
According to the Fox report, on return to Houston's George Bush Intercontinental Airport, police boarded the plane and found the woman was carrying a potential weapon. They found a crystal rock around the size of a softball on her and consider her actions to be an armed attack. Police then took the unidentified passenger into custody and the United Airlines flight was able to leave again shortly after midnight, landing in New Orleans at 1:16 a.m. Sunday morning.
According to Houston police, the unidentified passenger was then taken to a local hospital to undergo a mental evaluation. Police are now working with the U.S. attorney's office and the FBI to decide if the woman should be charged.
United Airlines issued a statement about the incident, thanking their customers for their help and patience and also the crew for their assistance in resolving the situation.
In recent United news, a rapper was upset with the airline after they sent his dog to a different city and state, 2,000 miles away. United was also recently accused of destroying a man's custom wheelchair, worth $42,000 while en route to Paris.