Three teenagers face capital murder charges in death of six-year-old Jackson boy
Three teens who stole a car in central Mississippi, with 6-year-old Kingston Frazier inside, are being charged with his murder.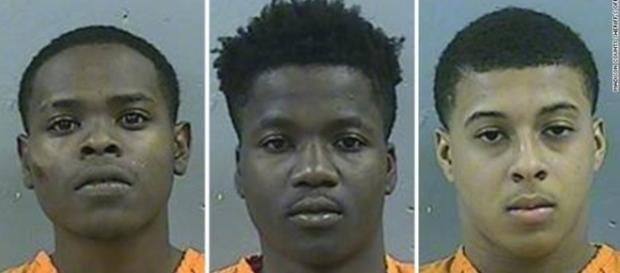 Kingston Frazier, 6, of #jackson, Miss., was shot to death after his mother's car was stolen outside a grocery store on Thursday, with him inside. According to police, the boy was waiting in the car, with the engine idling, while his mother, Ebony Archie, finished shopping at a Kroger store on I-55. Two of the suspects pulled up behind the Toyota Camry and stole the vehicle early on Thursday morning.
Suspects drove up in a Honda Civic Coupe
As reported by the Clarion-Ledger, two of the suspects had been driving a Honda Civic Coupe. They were caught on a security video while driving around in the store's parking lot, prior to stealing the car.
Having spotted the Camry, they then pulled up alongside the vehicle and the passenger jumped into the driver's seat and drove away at speed with his accomplice – and Kingston.
Toyota Camry in which 6 year old Kingston Frazier was found shot dead inside, taken to state crime lab. Frazier taken there for autopsy. pic.twitter.com/8oMhR4Aq6w

— David Kenney (@WLBT_DKenney) May 18, 2017
Amber alert issued for six-year-old Mississippi boy
Upon finding both the car and the boy missing, an Amber Alert was issued. Local police officers scoured the area for several hours and eventually found the stolen Toyota on a dead-end road in Gluckstadt – 15 miles away from the Kroger store – at around 10 a.m. Kingston was found by police, lying in the back seat with a single gunshot wound.
A 6-year-old Mississippi boy was found shot to death in his mother's car after it was stolen from a store yesterday. https://t.co/Y4uMKjGXZj pic.twitter.com/YESHhDspBC

— The Trace (@teamtrace) May 19, 2017
Three suspects arrested in death of six-year-old boy
Officials believe a third person was an accomplice in the car theft and the murder.
Police have now arrested three suspects in connection with the killing, including the two suspects who allegedly stole Archie's car. As reported by the New York Post, DeAllen Washington and Dwan Diondro Wakefield, both 18 years of age, were arrested and taken into custody. The third suspect, Byron McBride, Jr., was also arrested later in the day. So far it is still unclear who stole the car with Frazier inside. None of the suspects have been charged, and no motive has been announced in regards to the little boy's killing.
Six-year-old was to graduate from kindergarten on Thursday
Relatives told local media that Kingston was supposed to graduate from kindergarten on Thursday. Family and friends are shocked and grieving over the loss of the boy, who is described as being "outgoing" and a "joy to be around."
The little boy's uncle, David Archie, told the Clarion-Ledger that they cannot imagine how anyone could do such a thing to a six-year-old boy. He added that even if he was mad at the world, he couldn't do something like that.
Archie added that the family won't rest until the suspects are brought to justice.
6-year-old Mississippi boy kidnapped in parking lot found shot to death in back of car - https://t.co/WksXdryk9b pic.twitter.com/c9tmJwcbsE

— NEWS 784 (@NEWS_784) May 19, 2017
According to Velma Eddington, Kingston's great aunt, his killing was the ultimate proof that "evil" exists. She said that while the car was missing, everyone was praying they would find Kingston alive. She stressed that the little boy's killing was evil and that they could have left Kingston in the backseat, asleep. #Mississippi #6-year-old