Putin offers to provide U.S. Congress transcript to defend Trump
Trump's advisers made 18 contacts with Russians in 7 months of 2016 presidential campaign.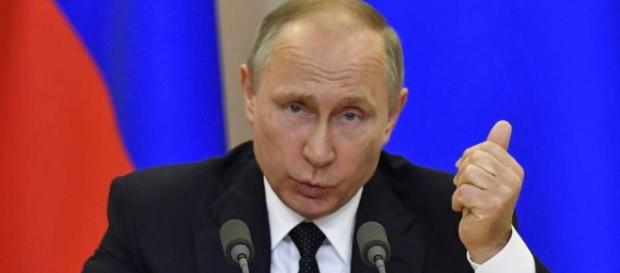 Russian President Vladimir #Putin's relationship with the U.S. President Donald #trump has definitely been affected by the American air strike on Syria. Nevertheless, Putin is now offering Trump a way out of the mess the billionaire is in. The former KGB Foreign Intelligence Officer offered to provide the U.S. Congress a transcript to prove that Trump did not share secrets with Russia. The American president met last week with Russian Foreign Minister Sergei Lavrov and shared with the envoy a planned operation against the Islamic State. The disclosure of classified information triggered calls for impeachment and renewed public interest in Trump's ties with Russia during the seven-month campaign period in 2016.
Putin's sarcasm
Russian president said on Wednesday that he found it absurd that Trump is being accused of sharing secrets with Lavrov, as reported by Reuters. He sarcastically added that he would reprimand the the Russian foreign minister for not sharing with him or representatives of Russia's intelligence service what Trump told Lavrov. But what Putin is offering to the House of Representatives is not an audio tape, but a written record of the conversation between Trump and the foreign minister. Since the written record could be manipulated in Russia's favor because, as it could not be checked against an audio or video recording, U.S. Republican Senator Marco Rubio is wary of Putin's offer.He doubts the credibility of Putin's transcript and added that if the Russian president would email the notes, Rubio would not click the attachment.
The senator was alluding to Russia's hacking of Democratic groups during the campaign. Like Rubio, Democratic Rep. Adam Schiff doubts the credibility of Putin's offer because the former spy has less than zero credibility.
Comey's memo
Trump's relationship with the Russians is now under public scrutiny, after he fired FBI Director James Comey who wrote a memo that the president pressured him to drop the investigation on former National Security Adviser Michael Flynn over Trump's Russian ties. However, the former "The Apprentice" host claimed he kicked out Comey over the director's handling of the probe of Hillary Clinton's private email server. In an exclusive report, Reuters said that Flynn and other Trump's advisers during the campaign made at least 18 calls and emails over a seven-month period with Russian officials. The information came from present and ex-U.S. officials familiar with the exchanges. These undisclosed interactions are part of records that the FBI and House of Representative probers are investigating on Russian intervention in the U.S.
2016 presidential elections which Trump denies.
There were six phone calls between Russian Ambassador to the U.S. Sergei Kislyak and Trump's advisers, Flynn included, according to three current and former American officials. The two discussed establishing a back channel for communications between Trump and Putin, bypassing the national security bureaucracy in Washington. The White House previously denied contacts with Russian officials during the campaign period, but eventually confirmed there were four meetings between the ambassador and Trump's advisers. #2016 campaign period