Bill Maher slams Trump's awkward 'sexism' toward German Chancellor Angela Merkel
Maher says of Trump's sexist attitude toward Merkel: 'He Obviously Hates Her'; jokes Merkel longs for days of creepy shoulder rubs from George W. Bush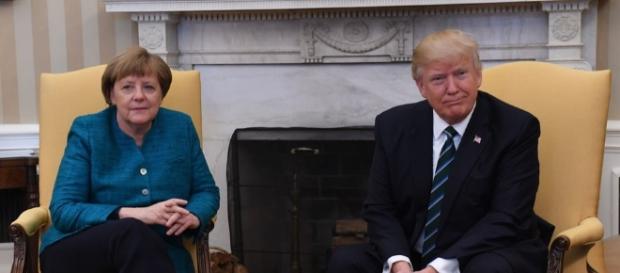 The continuing saga of the love/hate relationship between U.S. President Donald J. Trump and German Chancellor #Angela Merkel hit a new low on Friday in the Oval Office at the White House. However, the relationship sunk to a new low when Trump refused to "shake hands" with his German counterpart.
It was not long ago that Trump called Merkel a great leader, but he turned on her during the presidential campaign for allowing Syrian refugees into Germany. In late 2015, Trump had a fit when Merkel was named Time magazine's "Person of the Year." It now appears the relationship is at yet another low point, with no signs of abatement.
With shouts from the White House and foreign press corps in the Oval Office, calling for a photo of a "handshake" between the two leaders, Trump sat frozen faced and ignored the demands of the press. German Chancellor Merkel even said directly to Trump, "Mr. President? Can we have a handshake, please." Trump pretended not to hear and would not accommodate.
Angela Merkel asked President Trump to shake hands. He appeared to ignored her https://t.co/pW2tjN99Fx pic.twitter.com/uxhEiIpcxp

— TIME (@TIME) March 18, 2017
Bill Maher slams and blasts Trump for refusing to 'shake hands' with Merkel
On HBO's "Real Time with #Bill Maher", the iconic political satirist noticed the snub and had a great time with it. Maher asked his audience: Wasn't that a great meeting? "He obviously hates her, and of course he's so great at hiding this stuff," said Maher.
He pointed out that it is the usual tradition that a president and a foreign leader will oblige requests to "shake hands", but Trump would have none of it.
Trump acting like a spoiled child refusing to 'shake hands' with Merkel
Given Trump history of misogyny and acting like a spoiled child, it was not surprising. Maher joked that after the meeting Trump tweeted, "Lousy meeting with German Chancellor Barney Rubble. Low energy, unattractive, didn't even want to make me pop a Tic Tac." However, Trump tweeted that the Saturday meeting went "great", except for one little thing: the debt owed to NATO and the United States.
Despite what you have heard from the FAKE NEWS, I had a GREAT meeting with German Chancellor Angela Merkel. Nevertheless, Germany owes.....

— Donald J. Trump (@realDonaldTrump) March 18, 2017
...vast sums of money to NATO & the United States must be paid more for the powerful, and very expensive, defense it provides to Germany!

— Donald J. Trump (@realDonaldTrump) March 18, 2017
The awkwardness continued during the question and answer phase of the visit by Merkel.
At one point, Trump lamely joked to a not-so-amused Merkel, "At least we have that in common" in reference to a question about being "wiretapped" by Obama. The claims by Trump of being "wiretapped" by Obama have yet to be proven and many Republicans have said they have seen "no evidence" of any such occurrence by the Obama administration. That group of Republicans includes House Speaker Paul Ryan, Senate Majority Leader Mitch McConnell, Senate Intelligence Committee Chairman Richard Burr and House Intelligence Committee Chairman Devin Nunes. #Donald Trump