Sean Spicer appears to blame Navy SEAL who died in Yemen raid for his own death
Rate this title
While addressing the botched raid in Yemen that resulted in the death of an American solider, Sean Spicer gave a controversial response.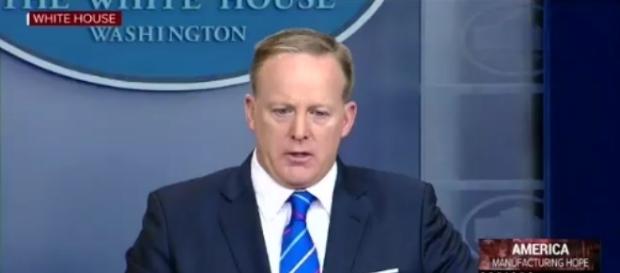 In the first highly publicized military act of the Donald Trump administration, the United States military conducted a raid in Yemen that resulted in the deaths of 14 al-Qaeda members. However, close to 30 civilians also lost their lives, as well as member of the Navy SEALS.
Spicer on SEALS
U.S. Navy Seal William Ryan Owens died last month during a botched mission in Yemen. The death was the first to land at the feet of President Donald Trump, much to the chagrin of the family and the president's critics. In response, the White House declared the mission a "success," despite the fact that a American solider was killed. While speaking to the Miami Herald over the weekend, Bill Owens, the father of the solider in question, referred to the mission as "stupid," and questioned the timing and why Trump would follow through with the raid in the first place.
As reported on February 27, White House Press Secretary Sean Spicer addressed the issue, but did so in a way that left many uncomfortable.
While speaking to reporters at the White House on Tuesday afternoon, Sean Spicer attempted to defend the Yemen raid. "I think you can't ever say that when there's most importantly loss of life, and people injured, that it's 100 percent successful," Spicer noted, but explained that with according to the goals at hand, the mission "achieved its objectives." Not stopping there, Spicer offered his condolences to the Owens family, but then put the blame of death on the solider himself.
'He knew that this was part of the job': Sean Spicer blames Navy SEAL for his own death https://t.co/5ikwsS6omW pic.twitter.com/O1JnvelRj0

— Raw Story (@RawStory) February 27, 2017
"It's something that as a SEAL and as somebody who deployed 12 times, he knew that this was part of the job and he knew what he was doing," Sean Spicer said.
In regards to the mission itself, Spicer said Donald Trump and the administration are "very comfortable" with the results.
EXCLUSIVE: Father of Navy SEAL killed in Yemen raid wants answers: 'Don't hide behind my son's death' https://t.co/VrLCCf8AGH pic.twitter.com/INwwti7mUv

— Miami Herald (@MiamiHerald) February 26, 2017
Next up
Donald Trump has only been commander in chief for a little over a month, but he's already created a constant stream of controversy that doesn't appear to be dying down anytime soon. Though the billionaire real estate mogul has blamed Democrats and the alleged "fake news" media for any negativity that has been reported, a recent poll by Quinnipiac University reports that only 38 percent of the American people view Trump in a favor light, compared to over 50 percent who have a negative opinion of his short time in office.
Click to read more
and watch the video
or