Donald Trump lashes out over Russian blackmail report during aggressive press conference
Donald Trump and his transition team went off on the recent CNN and Buzzfeed reports that claimed Russia could blackmail the president-elect.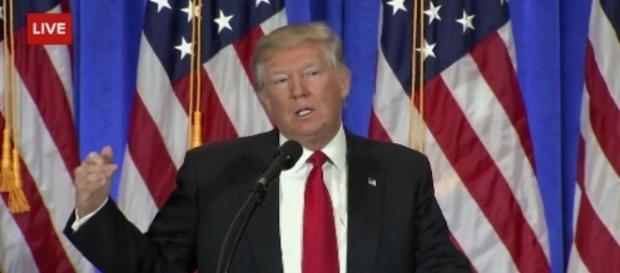 The last 24 hours has been one of the most controversial since Election Day. After #CNN broke a story that claimed Russia had "compromising" information that could have led to a blackmail of #Donald Trump, the president-elect quickly pushed back.
Press conference clash
The bombshell exclusive from CNN Tuesday night stated that Russian operatives had information on Donald Trump, linking back to his personal and financial life. Not long after its release, #Buzzfeed reported that Russia had allegedly obtained private information about Trump's sex life, most notably the now infamous "golden shower" report. Those reports are considered "unverified" as of press time, with the president-elect referring to them as "fake news" during a Twitter rant on Wednesday morning.
As reported by ABC News and other news outlets on January 11, Trump elaborated further on the issue during his first press conference in months.
Incoming White House Press Sec. addresses unsubstantiated allegations: "The report is not an intelligence report, plain and simple." pic.twitter.com/NsXnXmesa3

— ABC News (@ABC) January 11, 2017
Before Donald Trump even took the microphone, incoming White House Press Secretary Sean Spicer ripped into the aforementioned CNN and Buzzfeed stories. Spicer labeled the Buzzfeed report as "outrageous," criticizing the website as a "left wing blog," before stating it was "highly irresponsible for a left-wing blog... to drop highly salacious and flat out false information on the Internet." Going further, Spicer referred to the report as "fake news" that was "shameful" and "disgraceful." After Vice President-elect Mike Pence came to the podium, he announced Donald Trump to those in attendance.
Trump: It would be a "tremendous blot" on intelligence agencies if they released Russia dossier https://t.co/pMubYGqWbD

— MSNBC (@MSNBC) January 11, 2017
Trump responds
Donald Trump surprised many with his first comments during the press conference, thanking the majority of the media and the press for dismissing the reporting from CNN and Buzzfeed. "I have great respect for the news and great respect for freedom of the press," Trump said.
Pres.-elect Trump calls leak of unsubstantiated allegations "a disgrace...it's all fake news. It's phony stuff. It didn't happen." pic.twitter.com/qZOdvTc9s4

— ABC News (@ABC) January 11, 2017
However, the president-elect then openly questioned whether or not the intelligence community were the ones to break the alleged "fake news" story related to the Buzzfeed and CNN reports. "That nonsense that was released by, maybe the intelligence agencies?" Trump wondered. The billionaire real estate mogul then moved on to his future agenda in the White House, highlighting jobs and the economy, as well as his Inauguration Day plans.
.@realDonaldTrump: "As far as hacking, I think it was Russia. But I think we also get hacked by other countries and other people." pic.twitter.com/bcJQmzLqql

— Fox News (@FoxNews) January 11, 2017
After taking questions from members of the press, Trump continued to label the CNN and Buzzfeed reports as "fake news," but did admit for the first time that he believed Russia was behind the hack of the Democratic National Committee. The press conference then shifted to Trump confirming that he has officially signed off control of his businesses to his his two sons, Donald Trump Jr. and Eric Trump