Barack Obama: The former-president delays the release of his new book
Don't miss our Facebook page!
Like Blasting News page on Facebook: we will keep you updated with all the latest news.
The White House Correspondents' Dinner was held this past Saturday and President Barack Obama, as usual, stole the show. Not only did he skewer everyone including Donald Trump, he ended his final Correspondents' dinner with a literal mic drop. Needless to say, the unconventional moment went viral. 
The mic drop before the mic drop
When Bill Clinton was in the White House, most remember him as the coolest President ever. From his saxophone playing on the Arsenio Hall Show to his witty lines and unflappable demeanor, it was thought that no president ever would top his copacetic cool.
Then Obama came along and changed everything. 
The popular politician often borrows from parodies of his presidency. At last year's White House Correspondents' Dinner, he brought comedian Keegan Michael Key from Comedy Central's Key and Peele onstage as his anger translator. It's an act where comedic partner Jordan Peele pretends to be Obama in his usual calm demeanor and Key gives the angry translation of what Obama is really trying to say. At the dinner, Obama played himself with Key resuming his role as the anger translator.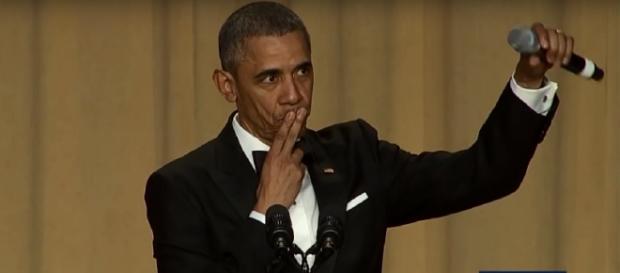 The results were comedy gold.
In 2012, Saturday Night Live parodied the mic drop when it skewered a presidential debate between Mitt Romney and Barack Obama during his second campaign for the White House. In the sketch, Jason Sudeikis as Romney takes a real line from a debate where Romney accuses Obama (Jay Pharoah) of not calling the attack in Benghazi a "terrorist act." Once he is proved wrong, Pharoah drops his mic, knowing that he's won the debate. It was a literal cry yourself laughing moment.
It's possible that the President could have admired the event and decided to save it for his very last Correspondent's dinner.
Of course, the argument could also be made that he stole the idea from The Ellen Show. At his final State of the Union Address in January 2015, Ellen used CGI to show Obama dropping the mic at the end of his speech. She joked beforehand, "I have to say, I was a little surprised by how he ended it. I don't know if it was cause it was his last one but, boy, I was surprised.
Well he doesn't care anymore. He's done now." Couple this with the other YouTube "Obama mic drop" moments and you've got an audience that is clamoring for Obama to do the bit in real life.
In any case, the President ended his final Correspondents' Dinner on his own terms. He told jokes aimed at the current presidential candidates, he skewered the room on race – a subject that he has shied away from throughout his presidency – and he was really funny.
Overall, he remained true to himself, a hardnosed politician who never took himself too seriously and always told things like they were. In his final moments, leaving everything on the floor, he simply said, "Obama out." He dropped the mic and received a well-deserved standing ovation.
Click to read more
and watch the video