Checks of carry-on baggage on the anvil for flights from Mexico
Passengers from Mexico to the US, who carry electronic device larger than a cellphone as carry-on baggage, have to undergo strict security checks.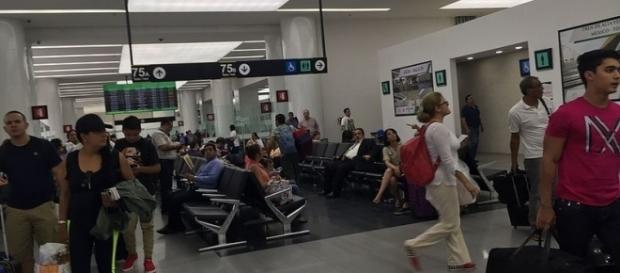 A #travel ban is already in place on carrying large electronic devices as carry-on baggage in international flights that originate from certain specific countries. The reason for this ban was to prevent any terror attack because intelligence inputs had mentioned about miniature bombs and explosives that could be concealed in electronic devices like laptops. A similar action is now introduced for Mexican travelers who are flying into the #United States.
Laptops are an integral part of today's business class and students, and they want to utilize the flight to continue with their unfinished work. However, the ban puts them at a disadvantage, and they have to accept it as a necessary evil in the larger interests of society.
Mexico is added to travel restriction
Daily Mail UK reports that the travel restriction vis-à-vis carry-on baggage for Mexico is a new development. Mexican officials have said that this has been introduced at the request of the U.S. Department of Homeland Security. Therefore, to allow laptops and tablets and other such devices as carry-on items in flights from Mexico to the United States, the items would have to pass through strict security screening.
Mexico's Transportation Department has clarified that this check would apply to any electronic device which is larger than a cell phone and has advised passengers to travel with as few of these devices as possible in carry-on bags. Terror threats in midair is a matter of concern for any airline since it jeopardized the lives of passengers and crew and was the reason for the introduction of the travel ban.
Laptop ban lifted for some airlines
Transportation Security Administration (TSA) has already announced the lifting of the ban on carrying laptops as carry-on baggage for passengers traveling on Saudi Arabian Airlines. This country was in the travel ban, but it is no longer applicable to it because it has improved upon its security checks as required by the American authorities. A spokesman of TSA has confirmed that the United States had lifted the restrictions in Jeddah and its compliance would also be checked.
The huge volume of traffic that pour into the United States on a daily basis stretches the capacity to near breaking point, and DHS wanted airlines to share the load. It has suggested some steps which, if implemented at the originating end, could ease the extensive checks at the destination. Some of these are enhanced passenger screening at foreign airports, increased security protocols around aircraft and in passenger areas and expanded canine screening. The DHS wanted the affected airlines to revamp their security measures through the introduction of explosive trace detection equipment and hinted about possibilities of imposing new restrictions on laptops unless airlines go in for security upgrades. #Carry On Baggage