'Yoga With Cats' on offer at Kettering, Ohio animal shelter
An animal shelter in Kettering, Ohio has been offering yoga classes with cats for two years now and it's proving to be a popular event.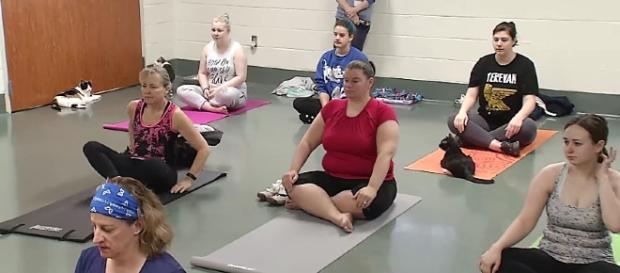 The Society for the Improvement of Conditions for Stray Animals (#SICSA) in Kettering, Ohio, came up with the idea of "#yoga with cats" around two years ago. According to them, the adoptable cats often seem to form partnerships with the human participants in the yoga classes.
As reported by KIRO7, SICSA development coordinator, Sam Lake, says it is a very popular event that soon fills up each month, but it's also good socialization for the felines. Along with their other efforts, the yoga classes are doing well, as reportedly the Kettering animal shelter has found homes for 1,654 animals in the last year, pretty much evenly split between cats and dogs.
Participants and felines enjoy 'Yoga With Cats'
The "Yoga With Cats" class reportedly happens on the third Saturday of every month, with Matt Turner, a registered instructor with the Dayton Yoga Club, leading the sessions. According to Turner, it's his way of giving back to the community and generally sharing yoga with everyone. AJC.com reports that Turner himself is an animal lover and considers himself a "cat person," having two rescue cats, Frank and Sally, living in his home. He is also, reportedly, the founding member of the Dayton Yoga Club.
Great idea @SICSA | Ohio animal shelter hosts #yoga with adoptable #cats https://t.co/AFOjVcFOc2 #YogaWIthCats pic.twitter.com/ib4aMOCx9c

— Chris Niehoff (@chris_niehoff) April 15, 2017
According to Turner the good thing about practicing cat yoga is that it attracts people who might normally be hesitant to try the sport.
Whether it's their age, or they believe they don't have the right body, that puts them off, people do tend to come for the cats. Once they experience it, they stay – and even come back – for the yoga. As for the felines, reportedly they love the texture of the yoga mats and for that reason, Turner doesn't encourage people to bring their best mats with them to class as the cats might damage them.
He did add that the cats tend to bond with particular people during the sessions. Turner mentioned one occasion where a participant was in the downward dog pose (how appropriate for cat yoga) and one of the cats apparently walked under her shirt and curled up asleep. He also said that during kitten season there are always little ones running around who tend to climb on people as they do their yoga poses.
Extra stress relief at 'Yoga With Cats'
According to Turner, the cats offer additional stress relief to participants in the yoga sessions, which they limit to 25 participants, while in return the cats get catnip and treats.
While it's great for both cats and yoga participants, it is also a good fundraiser for the animal shelter, bringing awareness to the cats who are looking for their own fur-ever homes.
Coming soon: 'Knitting With Kittens'
Besides the yoga, there are plans afoot for the younger animals currently housed at SICSA. Lake says they are planning to start "Knitting With Kittens" sessions on June 11. If they find the classes are successful, they will schedule these on a regular basis.
According to Lake he enjoys working at SICSA as he feels his time and efforts do something positive for the animals. He hopes the various events will bring more people to SICSA to adopt the great cats and dogs they have at the shelter.
While not filmed at the Kettering SICSA, the video below published by the Fairfax County Government gives an idea of how much fun "Yoga With Cats" can be.
#Kettering Ohio