Sculptors Guild presents 'Currently 80' exhibit at Westbeth Gallery in NYC
The Sculptors Guild organization is currently showing work in NYC and gearing up for their 'American Twist' exhibition in New Orleans this March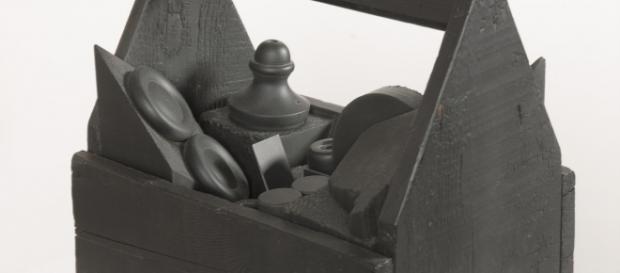 The Sculptors Guild is an artistic non-profit organization that aims to promote the work of sculptors by displaying their Art to the public via a variety of venues. Since 1935, the Sculptors Guild has served artists including David Smith, Louise Nevelson, Louise Bourgeois, and Chaim Gross. The Sculptors Guild is located in New York City and they are presently hosting their "Currently 80" exhibit at Westbeth Gallery which opened on February 5 and runs until February 24. The exhibition includes works by living Sculptors Guild members as well as drawings by Louise Nevelson. "The large exhibition celebrates eighty years of the Sculptors Guild's existence," said Michael Wolfe, the vice president in charge of publicity.
"It's our first showcase at Westbeth and there are so many good pieces that it's hard to pick a favorite. However, I am partial to 'Small Cities IX' which is a small piece by Louise Nevelson. It is made out of what appears to be an old tool box and is situated next to a Chaim Gross Sculpture which is beautifully carved ebony wood. Yet all the art is very interesting and quite diverse."
Organization
An artist-run organization, many Sculptors Guild members take on roles to help find venues to display their work. Every year in the spring and fall, the organization issues an open call to artists who are interested in joining the group to submit photos of their work for review. The jury is highly selective and looks closely at the quality of the art as well as the artist's record of exhibiting sculpture.
Once accepted, association with the organization leads to many opportunities for artists to showcase their art on a rolling basis at an array of locations. The Sculptors Guild has an exhibitions coordinator named Thea Lanzisero who consistently seeks exhibition opportunities for member's artwork. Often times, the Sculptors Guild is invited to exhibit in a space. In fact, they have been displaying artwork on New York's famed Governors Island for ten years and their 2016 exhibit—titled "American Twist"—is now traveling to New Orleans, Louisiana where it will be unveiled in March of 2017.
Exhibitions
"American Twist" is a group exhibition of Sculptors Guild member's work that includes small works, large works, installations, and even outdoor sculptures. Moreover, for the first time ever the Sculptors Guild hosted the work of guest artists from the Antenna Gallery in New Orleans. This partnership marked the beginning of the group's plans to share work between New Orleans and New York City.
The theme of "American Twist" involves thirty-seven artists reflecting their ideals about what America represents to them. The subsequent sculptures were made with a variety of materials and techniques. The "American Twist" New Orleans show was scheduled as a result of conversations between exhibitions coordinator Thea Lanzisero and members of the Antenna Gallery. "Thea invited them to participate with the Sculptors Guild on Governors Island last summer," Michael Wolf explained. "In return, The Antenna Gallery invited the Sculptors Guild to bring the exhibition 'American Twist' to New Orleans." Among the works on display are pieces by Michael Wolf such as "Amerika" which features a flag made of lead. "Amerika is about the poisonous political environment America finds itself in currently," Michael declared. "The American flag on the sculpture is made of lead which gives the whole piece a heavy—somber—feeling. My other piece, 'Sanctum,' is from my series of sculptures based on architectural structures. The void is a representation of the embodiment of the sacred. In these sculptures, I have explored archetypal forms of shelter and how these forms allude to personal and social themes that have occupied my thoughts and the collective unconscious."