Xbox One X Project Scorpio edition announced, pre-orders are now available
Rate this title
The rumored console with excellent custom-designed exterior, controller, and vertical stand.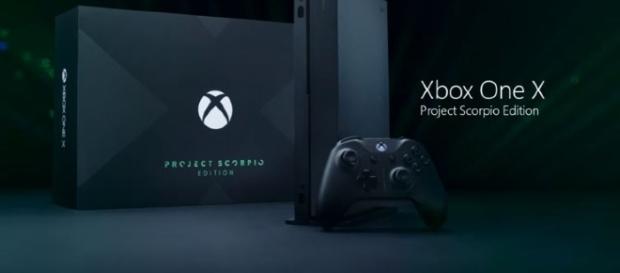 Rumors leaked around the internet, pertaining to the upcoming Xbox One X Project Scorpio with greater specs than the current edition. This powerful console was announced last year and the hype immediately rose. Now, Microsoft announced its official revelation, dubbing it as the "world's most powerful console." The said console is now available for pre-orders with a tear-jerking price of $499. Buyers should hurry on pre-ordering the console while supplies still last.
Buyers may pre-order at the official Xbox website and provide necessary details. The design is quite excellent with its custom printed exterior. This makes console different the current PlayStation 4, PlayStation 4 Pro, Nintendo Switch, and the like.
Next, the console stands in a vertical manner, much like a CPU. The most noticeable design would be the words "Project Scorpio" that are printed on both the console and the controller.
Here is the announcement trailer that unveils the beauty of Xbox One X Project Scorpio via Xbox on YouTube:
Specs and features
As mentioned and shown above, Project Scorpio presents new opportunities for gamers, who love to achieve high-quality gaming. First, the Xbox One X (Project Scorpio) console renders 4K gaming. This is 40 percent more powerful than other consoles out there. In addition, this performance adds to the game's immersive experience. Delving deeper, the processors run on an 8-core AMD CPU at 2.3 GHz (gigahertz).
Furthermore, the boost in performance allows a smoother gameplay that provides detailed renders of in-game worlds, environments, and smoother interactions in games.
Moving on to memory, the said console has 12 GB GDDR5 of graphic memory, which allows quicker loading times and bigger renders of game environments. Along with the console's performance, the exterior design is compact and every angle is designed to fit in every space, vertical or horizontal.
The debate starts
Surely, there will be debates among PlayStation 4 console users and this Xbox One X console buyer. They will debate on which console is the best and think which is the best buy. When the console is released, there will be reviews that will tackle compatibility issues and overall gaming satisfaction rating. However, this is not a problem on Microsoft's part because they should have had planned solutions accordingly. More updates will be unveiled during said console's release. The hype goes on while others speculate about the upcoming PS5. Meanwhile, here is the unboxing video via Xbox official news website:
Click to read more
and watch the video
or