'Call of Duty: WWII' scanned magazine gameplay screenshots leaked online
A considerate Reddit user has scanned all of the images found on Edge Magazine issue #307 and posted them online for everyone to see.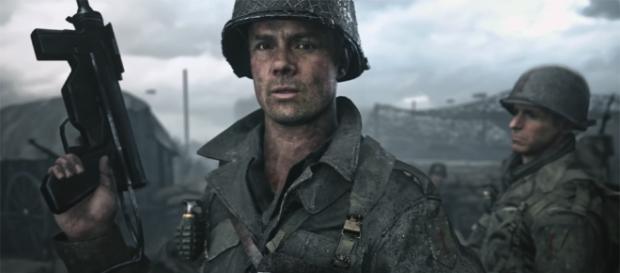 Activision has already announced that it will be revealing all of the relevant information regarding its upcoming military first-person shooter "#Call of Duty: WWII" at the upcoming 2017 Electronic Entertainment Expo (E3) event. However, some people apparently just can't wait to find out more about the game before then. Fortunately for those who want to see more teasers and in-game screenshots of the upcoming installment, #Edge Magazine has obliged and has now published several new images taken straight from the game.
Cover feature
Issue #307 of the aforementioned magazine now showcases the upcoming "Call of Duty" title as its cover feature.
The new issue has included a number of new images that looks like in could have been captured during actual gameplay. For those who don't want to grab an actual copy of the magazine, a considerate Reddit user has fortunately scanned all of the images and posted them online for everyone to see.
Brand new images
The first two images are full scans of one picture that shows Technical Sergeant William Pierson, played by Josh Duhamel, standing in front of an old church as gunfire is seen all around him. The next image is a picture of soldiers following behind several tanks likely heading to enemy territory.
The next image looks like it could either be a concept art or a screenshot of an in-game cinematic. Several soldiers are seen fighting against enemies out of frame, with the entire shot taken behind a car window.
The last image that was posted on Reddit is a picture of Private First Class Robert Zussman, played by Jonathan Tucker, seemingly winking at the camera. The soldier seems to be in front of a makeshift base in the middle of a gloomy looking forest.
'Call of Duty: WWII' scans from Edge Magazine pic.twitter.com/8HzaiXkklR

— US Daily News (@DontBeaVictim) June 7, 2017
A return to form
The upcoming "Call of Duty: WWII" will be Activision's homage to its original 2008 "Call of Duty: World at War." It will be the first game to be set in World War II since the 2008 title. Additionally, Activision has added a number of unique gameplay elements that will make the new game perhaps one of the most challenging titles within the franchise. For one, automatic health regeneration is no longer present in the campaign. Players will have to utilize med packs or other items to regain their health. The single player campaign mode has also been locked to "Hardcore Mode," and players will no longer be able to toggle its difficulty level.
"Call of Duty: WWII" is scheduled to be released worldwide on Nov. 3. It will be made available for the PlayStation 4, Xbox One, and Windows PC.