You can now turn your room into a gaming area with Microsoft's RoomAlive
Rate this title
RoomAlive is impressive gaming technology that may never go mainstream.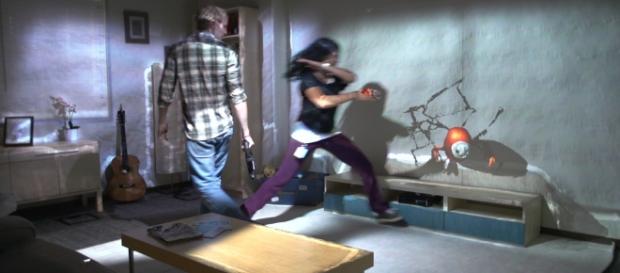 It seems that to play and enjoy your Games through a gaming console is not enough for Microsoft. Microsoft's researchers and several U.S Universities have joined the effort to revolutionize the gaming experience. This team is envisioning an immersive game experience that aims to turn the ceiling, floors, walls, and the objects in your Room into a complete, life-size virtual play area. They have already developed a prototype known as RoomAlive; this archetype uses six combination projector-depth cameras that are used to cover the room completely with input/output pixels.
The RoomAlive concept is designed in such a way that it could turn a room into a 360 degree Whack-A-Mole game, or, a gamer could chase and attack across the floor, across furniture, or anywhere in the room.
A description was given by the team in a research paper for ACM User Interface Software and Technology Symposium (UIST) that is currently taking place in Honolulu.
"Imagine playing a video game in your living room without a television. Instead, the game happens in the room, all around you. When the game starts, the room magically transforms into an ancient castle, the walls turn to stone, and flaming torches emerge from the walls casting flickering shadows onto the furniture. Out of the corner of your eye, you see a glowing idol appear on your couch," according to Microsoft
Project inspired by IllumniRoom
This project is inspired by the concept of the IllumiRoom research project that Microsoft described back in 2013 during the 2013 Consumer Electronics Show (CES). In project IllumniRoom, the developers used Kinect for Windows to turn projected images into completely integrated game elements and mapped the features of a room into reality (real-time).
This project was initially meant for educational and entertainment purposes, but it seems Microsoft had a different plan in mind.
RoomAlive could be irrelevant
A major problem here is the price. The amount of money one would need to have for RoomAlive to be up and running in their home could hit the ceiling. Because of this, the technology does not seem viable just yet. Furthermore, playing video games in your living room without a television is already possible with HoloLens, but that's also expensive.
Currently, the HoloLens device costs a whopping $3,000, enough to purchase a 4K TV with HDR functionality. Even PlayStation VR isn't cheap by any means.
Click to read more
and watch the video
or