Looking for a healthy snack? Here's how to make oatmeal cookies!
Here's a revamped but tasty recipe to creating a classic oatmeal cookie; sure, to be loved by both adults and kids alike.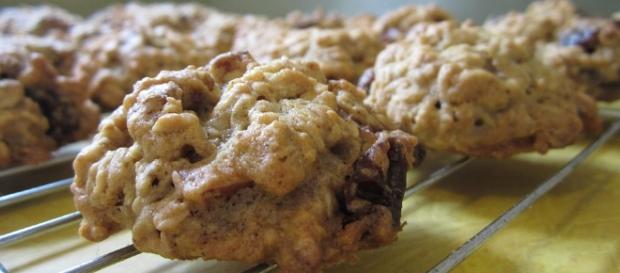 Who said healthy couldn't be tasty? Oatmeal cookies do not have the best reputation, I know. However, the creative minds at work in kitchens all over the world have discovered ways to make these little cookies a little tastier while keeping the healthy appeal. There seems to be a huge increase in the need to stay healthy and as such, this little cookie can fulfill the needs of those who are indulging in nutritious snacking while also licking their fingers clean. Want to know how to create these little plops of heaven? Here's how:
Ingredients
1 cup of softened butter
1 cup of white sugar
1 cup of brown sugar
2 large or medium eggs
1 teaspoon of vanilla extract or

#Vanilla Essence

2 cups of all-purpose flour
1 teaspoon of baking soda
1 teaspoon of salt
1 1/2 teaspoons of ground cinnamon
3 cups of quick cooking oats
¼ cup of raisins
¼ cup of dried fruit (papaya, cranberries, blueberries etc.)
¼ cup nuts (walnuts, peanuts, cashews, Brazilian nuts etc)
Method of preparation
Cream together butter, brown sugar and white sugar in a large bowl. Beat in eggs one at a time and then stir in the vanilla extract or vanilla essence.
Combine flour, baking soda, cinnamon and salt with the cream mixture and ensure that all ingredients are incorporated well. Fold in the oats, fruit, nuts and raisins and cover the dough with cling wrap. Chill the dough for at least 1 hour.
Preheat the oven in the meantime to 375 degrees F. Grease cookie sheets lightly with some butter. Remove the dough for the chiller and flour the preparation surface light. Roll the dough out to a thickness of at least ¾ of an inch.
Use a cookie cutter to cut shapes of preferences into the dough or pinch off bits of the dough and mold into a circular shape in the palm of your hand, keeping the thickness to at least ¾ of an inch.
Place the cookies on the cookie sheets and place into the preheated oven for 10 to 15 minutes or until golden brown on top.
Remove cookies from the oven and place on a cooling rack if available.
This recipe yields 24 servings and takes approximately 2 hours to make.
You can be as creative as you want with these cookies; the dried fruits and nuts add a myriad of flavors that burst against your taste buds and will have you eliciting a 'Mmm' sound from your lips. Serve these with a warm glass of milk or sandwich some of your favorite flavor of ice-cream between two of these nutritious but scrumptious bad boys. The possibilities are endless with these tasty, little critters. You will never look at oatmeal cookies the same way again. Remember: good food inspires a good mood! #healthy snack