How to make a one pot classic Fettuccine Alfredo
Here is a meatless recipe for a Fettucine Alfredo dish everyone will love and be begging for.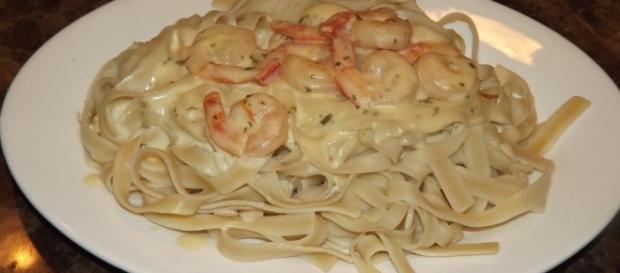 Ever wanted to create this creamy dish so you won't have to go to expensive restaurants to get it? Let me teach you how I make pasta Alfredo without meat. This delicious appetizer was passed on to me from my father who lives in New York, and when I would go to visit him we would often go to Red Lobster. Each time we visited Red Lobster I always had the shrimp Alfredo and that inspired me to learn how to make this dish at home. It's to "die for", especially for the occasional Italian food lovers.
Ten reasons to enjoy this dish
It's a simple dish.
It doesn't take long to make.
It doesn't 'hurt' your pocket.
Serves up to four persons.
It is delicious and you can add other ingredients you may like to make it interesting
There are limited dishes to be done.
Anyone can make it (including your spouse may not be able to cook)
Kids love it (kids generally love pasta)
You can enjoy it in the comfort of your house.
It's great for any occasion.
Here is how I make my pasta Alfredo:
Ingredients
Fettuccine or any pasta you prefer – 2 boxes/packs (uncooked)
Butter – ½ cup melted
Alfredo sauce – 1 bottle (Ragu or Prego); I prefer to use already made Alfredo sauce
Salt and pepper for taste
Parsley flakes – 3 teaspoons
Broccoli (frozen) – 1 pack
Cheese – 2 cups grated
Milk – 1 cup
Chicken stock – 2 tablespoons
Instructions
Bring water to boil in a pot of salted water and add fettuccine. Let cook for 10 minutes until pasta is fully cooked and drain.
Thaw broccoli in the meantime.
Return to the same pot and add butter (with the stove on low heat) and add thawed broccoli. Stir fry the broccoli and when it is cooked, add the drained pasta.
Then, add salt, pepper, milk, chicken stock, cheese, Alfredo sauce and parsley flakes and mix until everything is combined, the sauce thickens, the cheese melts and let simmer for two minutes before turning off the heat.
Serve hot to get that melted cheese effect with side garlic bread.
If you would like to add shrimp or boneless chicken you can by cooking it separately and adding to the pot when mixing all ingredients.
Sounds quite simple but I promise you this is a dish to try. After wanting Alfredo regularly, I learned to make this on my own because it's way cheaper and convenient to make it yourself. Even after a long day's work and you are too tired to cook a three- course meal, the classic fettuccine Alfredo will do the trick just as well. As mentioned previously, it is also a dish for several occasions such as anniversaries, birthdays, and parties even as one of your wedding reception dishes. #Fettucine Alfredo