Colin Kaepernick ready for action, Bengals a possible stop
Cincinnati Bengals could use Kaepernick's veteran smarts as Andy Dalton struggles.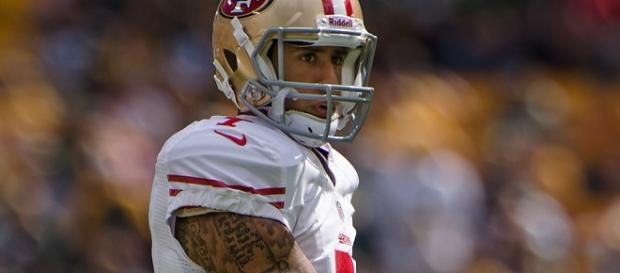 #Colin Kaepernick has yet to get an opportunity to take the field with the so-called blackballing up in the air. There were several teams linked to the 29-year-old NFL player but nothing materialized as of this writing. Despite being left out, Kaepernick made it clear that he is still hoping for the best. Shaun King of Fair Punishment Project asked the embattled quarterback if he still wanted to play football and Kaepernick replied with: "Yes. I've never stopped. I'm ready right now."
Staying in shape
Apparently, Kaepernick has not abandoned the game. Working out is a fine way to keep himself in shape but everyone knows that training for actual pro football is far different.
He remains without a team after opting out of his contract with the San Francisco 49ers back in March. The decision to opt out was a given considering there was a high chance he would be cut anyway. The 49ers are going in a different direction with a new head coach in Kyle Shanahan.
The Baltimore Ravens and the Green Bay Packers were allegedly close to signing Kaepernick. The Ravens were perhaps the closest to doing so until a controversial tweet by Kaepernick's girlfriend spoiled any chance of that happening. That post compared Ray Lewis and team owner Steve Bisciotti to two villains of "Django Unchained."
Aaron Rodgers of the Packers believes that Kaepernick's social activism is to blame for him being left out. Regardless, he believes the Milwaukee native has the talent to play in the NFL.
In a previous post, New England Patriots' Tom Brady echoed the same sentiment of Rodgers.
Bengals in need of experience
The #Cincinnati Bengals are struggling right now and most of the players believe the problem may be the quarterback position. #Andy Dalton is the current playmaker for the Bengals but has been hardly delivering under the watch of offensive coordinator Bill Lazor.
If Dalton fails to pan out, there is a chance that he could be benched in favor of A.J. McCarron according to SB Nation. But if the sentiments of the Bengals' players are to be heard, most believe the right way to address their problems is getting someone proven like Kaepernick.
Like most teams, Kaepernick is only an option. There is no assurance that the Bengals will actually sign him. A lot will still depend on Dalton who seems to be losing the trust and confidence of this teammates. Dalton has been playing for seven years now but many are questioning his ability to be a leader. The Bengals are in a tough situation right now, most notably due to the "near mutiny" against head coach Marvin Lewis.