Krispy Kreme is serving a new doughnut for a limited time
Customers of Krispy Kreme are excited about a new doughnut except one group of people who can't eat it.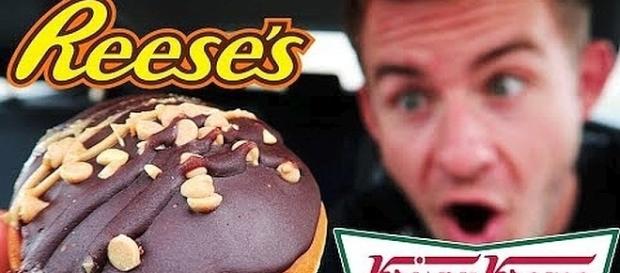 Krispy Kreme will have a new doughnut on its menu starting Friday, August 4. It is sure to be a favorite with everyone except one group of people. #Krispy Kreme #Reese's Peanut Butter Doughnut is coming to the delight of many but not for those who suffer from a peanut allergy. For the rest of Americans, the latest doughnut on the menu aims to please.
Partnership
When Krispy Kreme Reese's Peanut Butter Doughnut made its debut in Australia and the United Kingdom last August, people in the United States were jealous because it was not available for them. Now they are pleased that the Winston-Salem, North Carolina-based doughnut company has partnered with the makers of Reese's to make the peanut butter and chocolate doughnut.
This comes after the company celebrated its 80th birthday last month when customers were able to purchase a dozen #doughnuts for 80 cents after buying one dozen at the regular price. The new doughnut costs $1.69 each.
New doughnut
This new doughnut is stuffed with Reese's Peanut Butter Kreme filling and dipped in chocolate icing. Then it is topped with a drizzle of more chocolate and peanut butter and sprinkled with mini Reese's peanut butter chips and real peanuts on top. From those ingredients, one can see how the doughnut is loaded with calories even though there is no official word on the exact number.
The director of social media at Krispy Kreme said in a statement that regular customers know that Krispy Kreme shops have never been allergy free or nut free. Therefore, Reese's doughnuts will not be for those with food restrictions.
.@krispykreme unveils Reese's Peanut Butter doughnut https://t.co/kMxNMev470 🍩 pic.twitter.com/iD2rLHZ0iS

— ABC7 Eyewitness News (@ABC7) August 2, 2017
Those with food allergies won't have to hate for too long because the doughnuts will be available only for a limited time at participating stores. Executives of both companies believe the doughnut is going to be a big hit while they last. If customers get hooked on them, they can make their own when they are no longer available at Krispy Kreme.
Reactions
Surprisingly, the reaction on social media is overwhelming. People are excited about trying the doughnut at least once. If they like it, they will return for more. The thought of chocolate and peanut butter together gives candy lovers a thrill. Now that they can get the combination in one bite is amazing. While some like their chocolate and their peanut butter separately, they are willing to give the combination a try.
What do you think? Will you be in the line on Friday to get your Krispy Kreme Reese's Peanut Butter Doughnut or will you pass on this one?