Project Alloy vs Snapdragon VR Headset: Qualcomm shows Intel how it's done
After advent of Intel's standalone Project Alloy, Qualcomm unleashes Snapdragon-integrated wireless VR headset.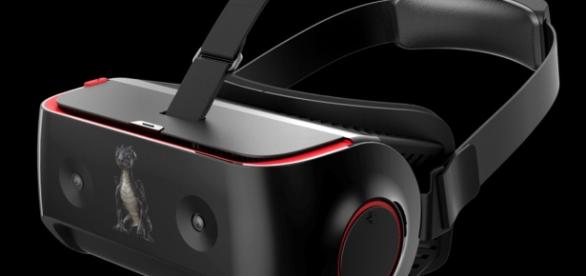 #Qualcomm unveils Snapdragon-based standalone VR headset to one-up #Intel's Project Alloy which was showcased last month. Interestingly, none of the tech companies will bring their virtual reality device models to life. Instead, both chipmakers are fighting to get their way into potential future VR markets by presenting VR Headset models based on their respective chipsets.
Both types of VR headsets are standalone devices, meaning PCs or smartphones do not run them. Instead, in-built Qualcomm's Snapdragon and Intel's Atom chipsets provide the necessary computing power along with a couple of other hardware borrowed from smartphones; hence, called standalone VR headsets. 
Qualcomm vs. Intel
The urge to invest into VR technology owes much to the fact that in 2015 alone AR and VR startups racked up about 135 deals and $700 million in funding.
A futuristic elaboration will be that years leading to 2020 would see an explosive growth in the production of VR headsets. Today's VR startups will be pioneers of virtual reality.
So let's say if virtual reality headsets do start selling like smartphones, and like Apple did with iPhone, a VR company hits the milestone of selling one billion VR headsets; Qualcomm and Intel would want their chips multiplied by that number. Intel's Project Alloy and Qualcomm's standalone VR headset model are aimed at such startups to employ their model and respective chips. 
Intel's Project Alloy VR Headset
During Intel's developer conference back in August, Intel CEO Brian Krzanich took the curtains off Project Alloy featuring company's RealSense 3D technology. Capable of offering "a completely self-contained virtual word," the Alloy-mounted device boasted advanced systems like collision detection, collision avoidance, and usage of hands as a replacement of controllers.
Intel pitch was an all-in-one VR headset because it is also provided, in their own words, a "mixed reality" experience. The company is also partnering with Microsoft to help develop a modified Windows 10 called "Windows Holographic," which as the name suggests will borrow its properties from Microsoft Hololens.
Qualcomm's Wireless VR Headset
Chambering Snapdragon 820 chipset, standalone VR headset by Qualcomm also revolves around Intel's all-in-one philosophy. The latest wireless VR device, just like its contemporary, is only an inspired-by mission and presents a ready-made design solution which will be made available to virtual reality headset developers.
Best features include integrated eye-tracking system, dual front-face tracking cameras for inside-out positional tracking, 1440X1440 resolution, and fast screen refresh rate of 70 fps. Whether Qualcomm's virtual reality simulator will best Intel's version depends on the performance of these devices when a VR production devices based on their models will finally reach the market.
Owning the VR market
Both companies are in competition to win the VR market and may the better chip win. But you can get an idea and check out the performance comparison report titled "Who makes the best SoC: Intel vs. Qualcomm vs. Samsung" by Android Authority's Gary Sims
Where Intel owns most of the PC and laptop market, Qualcomm dominates the smartphone market with its powerful Snapdragon 810 and 820 SoCs. Now both chipmakers will collide in the virtual reality arena by attracting the startups invested in VR headset technology. #VirtualReality