The President of Nigeria should be made Minister of Foreign Affairs – Gov.
The health of President Buhari and the future of the world's most populated black country.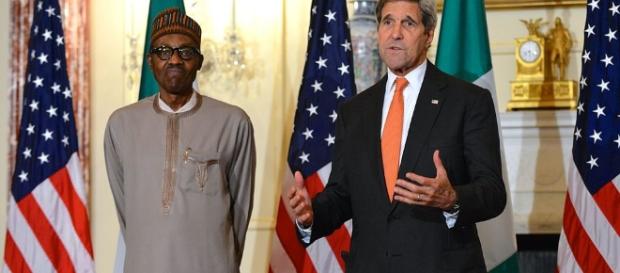 The governor of Ekiti, a state in the South-Western part of Nigeria, have asked the Nigerian government to make the incumbent President the Minister of #Foreign Affairs.
State of the Nation
It is no news that #The President of the most populated black country, Buhari, has been out of his country for more than three months, with no words for his fellow compatriots.
This has resulted in upheaval in the country that is popularly dubbed 'the giant of Africa'. The opposition has taken advantage of the absence to score political points and to launch campaign, even when it is two years to the general election.
The governor made the call at an all-inclusive meeting of the opposition party, PDP.
According to Leadership news, Mr. Fayose said, "Leadership must come with a certain measure of strength, if you don't have strength, how can you govern the country?" he went further by saying, "So we need a president that is hale and hearty, if our Presidents doesn't want to go let him become the Minister of Foreign Affairs in London. These are statements of facts."
President Buhari left the shores of Nigeria on the 7th of May this year, to London for medical treatment, up till now, no words have been heard from him. His media advisers and information Minister have tried endlessly to assure Nigerians that the president is alive, because some Nigerians are thinking otherwise already, but their position is yet to be accepted by Nigerians.
However, the bone of contention has been that President Buhari's cabinet members have refused to disclose the ailments of the President.
Resume or Resign Campaign
The campaign chairman of the defeated President, Mr. Fani Kayode, who doubles as the aviation minister in the past administration, has also lent his voice to the new social media protest #ResumeorResign, with his frequent tweets targeting the administration of Mr. Buhari. He tweeted: "Those that say that we are crossing the line when we call on @MBuhari to either resume or resign have been unhinged by the power that they wield…….we are citizens and not slaves. We have every right to ask about our President's health".
The singer/songwriter and the founder of OurMumuDonDo, Charlyboy, also joined the ResumeorResign movement. He led the protesters to a sit-out protest at the Unity Fountain in Abuja, the nation's capital. The movement has garnered many a support from home and abroad. The protest of Wednesday, the 9th of August, witness the presence of Nollywood actor Jim Iyke, and the co-convener of the Bring Back Our Girls Campaign, Aisha Yesufu. Right from Monday this week, the group has been on the street with banners, placards carrying the #ResumeorResign tag. The protest was also carried out in London, the city where the president is attending to better his health, concurrently. #President Of Nigeria