Finland knife attack is likely terror related act
A knife attack by a Moroccan asylum-seeker in Turku, Finland killed two and injured seven with Europol investigating ties to attacks in Spain.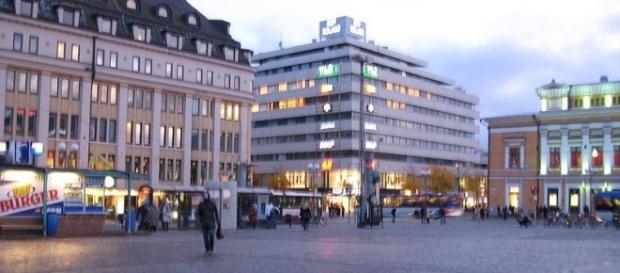 #Finland's intelligence agency has said on Saturday that a knife attack which saw two people dead and seven others injured was most likely a terror act. Meanwhile Europol is investigating to find if there are any ties to the brutal van attacks in Barcelona and Cambrils in Spain.
Moroccan asylum-seeker in custody
The terror suspect in the #Turku stabbing incident is an 18-year-old Moroccan asylum-seeker. Police shot the suspect during his stabbing rampage, injuring him in the thigh. The suspect is in intensive care in hospital and is under armed guard while police investigate him for murder in a possible terrorist scenario.
While Finnish police have not revealed his identity, they do say the suspect arrived in Finland from Morocco in early 2016, seeking asylum in the country.
Pekka Hiltunen, an investigator with the Finnish intelligence agency, said they are investigating any possible connections to Islamic State, as ISIS had previously encouraged this type of behavior.
BBC News - #Finland killings: Knifeman 'targeted women in #Turku terror attack' https://t.co/kCVEDXRFII

— Kevin W. (@kwilli1046) August 20, 2017
Terror suspect targeted women
According to Crista Granroth with the National Bureau of Investigation (NBI), the suspect's knife attack was extremely focused. Granroth said they believe the attacker was targeting women, but added one man had been slashed by the knife while trying to stand between the attacker and a female target.
The NBI is currently cooperating with the Finnish Security Intelligence Service, along with Turku police and Europol. NBI head Robin Lardot said Europol was currently investigating any possible links to the jihadist group responsible for the van attacks in Barcelona.
Four other suspects in custody
As reported by the New York Daily News, four other Moroccans in Turku have also been detained, with authorities believing they may have been involved in the attacks and a fifth suspect is being sought. A sixth person is the subject of an international arrest warrant. Police gave no more information on that person, although the Helsinki Times did report he was a Moroccan citizen who is not currently in Finland.
#FINLAND #Turku stabbings #Terror related https://t.co/GLVCTqFIB1 5 #Moroccans arrested #Interpol search warrant issued for 6th #Islamism pic.twitter.com/jjouHFt6Ij

— Qanta Ahmed (@MissDiagnosis) August 20, 2017
The two victims who died in the attack were both Finnish women. Meanwhile seven others were injured, including four Finns, one Briton, one Italian and one Swedish man.
According to police the youngest was 15, while the oldest victim was 65. Two of the injured remain in intensive care in a local hospital.
Hassan Zubier, the Swedish man, was stabbed in the arm after attempting to help a woman, who died in the incident. He said he tried to stop the bleeding from the woman's throat, but she died in his arms. The Finnish media reported that one of the dead was a Jehovah's Witness, handing out leaflets in the square. However the religious group reportedly said they believe the woman was attacked at random. #Asylum Seeker