London Finsbury Park mosque van attack kills one and injures 10 [video]
While not yet labeled a terror attack, a man drove a van into worshippers leaving a mosque, killing one and injuring 10.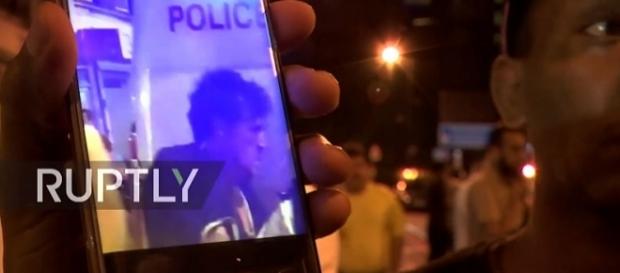 The U.K. Prime Minister Theresa May has dubbed the incident a "potential terrorist attack" after a 48-year-old man plowed into worshippers leaving a mosque after Ramadan prayers in #Finsbury Park, #London, Sunday night. One man is dead, and ten have been injured, while people in the area detained the driver before being arrested by London Metropolitan Police. As a precaution, the suspect was taken to hospital for a checkup and will then be placed in custody. A mental health assessment will also be carried out on the driver.
One dead in the attack outside London mosque
Police are currently working to identify the dead victim of the attack outside the mosque, although witnesses described him as being an older man.
No other suspects in the incident have been identified, and the vehicle used in the attack was rented from a van hire company based in Wales. Eight of the injured pedestrians were taken to three different hospitals, while two with minor injuries were treated at the scene.
The incident occurred at around 12:15 a.m. on Monday morning in Seven Sisters Road and had so far been dubbed by police as a "major incident." Officials deployed armed officers at the scene, and several hours later, counter-terrorism police were brought in and are reportedly leading the investigation.
As the incident happened, passersby wrestled the driver of the van to the ground and police officers, patrolling nearby, were at the scene within minutes, arresting the van driver. Witnesses described the suspect as a white man with black hair.
London mayor speaks out about the 'horrific terrorist attack.'
London mayor Sadiq Khan spoke out about the incident in a statement, calling it a "horrific terrorist attack." Khan said it was a deliberate attack on innocent people in the city, on people who were leaving the mosque after Ramadan prayers. May will be chairing a Cobra committee emergency meeting later today.
The Evening Standard reports that several witnesses at the scene saw a knife-wielding man attacking pedestrians in the area, but police have no reports of any victims of stabbing attacks. Witnesses at the scene immediately compared the incident to the London Bridge attack earlier in June which saw eight people killed.
Witnesses compare incident to London Bridge attack
One witness of the incident, 38-year-old Mehdi, told the Standard that many people were coming out of the mosque at the time and that the vehicle took a left and headed straight at them. Mehdi saw at least four or five people lying on the ground after the vehicle plowed into them. He also said he saw one person stabbed. The witness said the crowd of people detained the man after he attempted what he called a "London Bridge thing."
Another witness interviewed by RT News took photos of the van driver as he was arrested, one of which is included top of the article. #mosque attack